Kuroda Tells Japan Inc. to Stop Hoarding Cash as Costs to Rise
Toru Fujioka and Masahiro Hidaka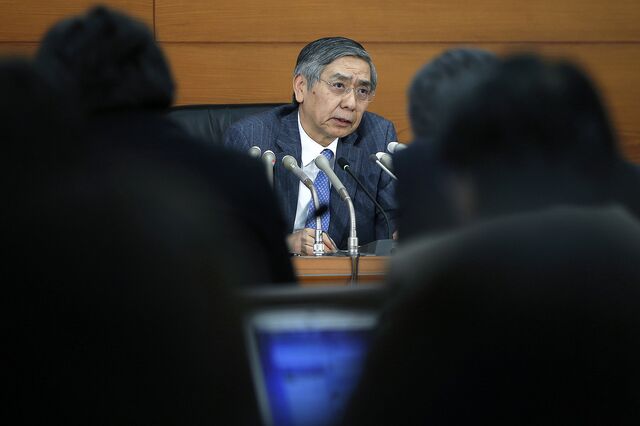 Bank of Japan chief Haruhiko Kuroda urged business leaders to use profits more productively, saying hoarding cash will become costly as the central bank stamps out deflation.
Companies could boost investment in facilities and jobs, taking advantage of a weaker yen, Kuroda said today in a speech in Nagoya. At the same time, the BOJ will continue to spur price gains, adjusting its unprecedented easing policy as needed to achieve its inflation goal, he said.
Japanese companies are headed toward their highest profits ever as a weaker yen resulting from the BOJ's stimulus boosts Toyota Motor Corp. and other exporters. Japan Inc. holds near-record cash while capital spending in the second quarter was more than 50 percent lower than a peak in the first three months of 2007.
"Kuroda is making it clear it's companies' turn to act," said Mari Iwashita, an economist at SMBC Friend Securities Co. "Capital spending, wages and price settings are all vital for the BOJ but are out of its hands. Kuroda must convince companies the economy will get better and deflation will end."
Kuroda last week secured a wider board majority for easing that the BOJ boosted on Oct. 31, and warned the central bank's key gauge of inflation could fall below 1 percent after the world's third-largest economy slid into recession.
The Topix index of shares advanced 0.6 percent at 12:47 p.m. in Tokyo. The yen gained 0.3 percent against the dollar to 117.94 and is down about 14 percent over the past year.
'Deflationary Mindset'
Falling prices over two decades of stagnation made holding cash a viable option for companies looking for safety and real returns on capital. The BOJ has been making steady progress in shaking a "deflationary mindset," Kuroda said.
Kuroda called on business leaders to take "action" that looks toward an economy that has overcome deflation.
"As a corporate strategy, using their profits in a more productive manner is imperative," Kuroda said. "I have great interest in developments in wages and price settings through spring of next year."
The BOJ is aiming to stoke 2 percent increases in consumer prices, excluding fresh food and the effects of changes in the sales tax. Core inflation by that measure is forecast to slow to 0.9 percent in October, according to a survey of economists by Bloomberg News.
Before it's here, it's on the Bloomberg Terminal.
LEARN MORE