Hockey Camera Spat Imperils Value of Rogers's NHL Deal
Gerrit De Vynck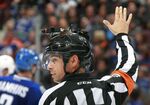 Hockey is so crucial to television revenue streams that Canada's largest media companies are battling publicly over access to camera angles during games.
The fight revolves around an online feature that Rogers Communications Inc. offers customers called GamePlus, which enables users to watch and replay game footage from multiple angles, including a camera mounted on a referee's helmet. BCE Inc., known as Bell, was first to complain to regulators that its subscribers should have access to those same online options.
It's not just camera angles that are at stake. In question is whether Rogers's C$5.2 billion ($4.6 billion) deal to distribute National Hockey League games in Canada will pay off, as well as what regulators deem to be TV content in the Internet age. The 12-year hockey contract, signed last year, was a bet that Rogers could win new subscribers by offering video on tablets and smartphones. While companies are required to provide universal access to content produced for TV, the same rules don't currently apply to Internet-only media.
"I think the Bells and the Teluses will win," Dvai Ghose, an analyst with Canaccord Genuity Group Inc., said in a phone interview. "Obviously that leads to the question, which is, why did Rogers spend C$5.2 billion on the NHL rights and can they monetize them effectively?"
Rogers Chief Executive Officer Guy Laurence called Bell a "cry baby" with a "puerile attitude" during his company's third-quarter earnings call, saying his rival was trying to stifle innovation. Telus Corp. and Eastlink, the brand name of Bragg Communications Inc., have since joined BCE's complaint.
Hockey Subscription
The complaints are forcing the Canadian Radio Telecommunications Commission to decide whether Rogers will be allowed to offer some access to hockey exclusively. GameCentre, the streaming service that GamePlus is part of, costs C$199 for a season pass. Rogers customers get free access, including the unique camera angles, until the end of December.
Users streamed 1.9 million minutes of hockey through Rogers's Internet and mobile services on Oct. 8, the NHL's opening night, the company said in a statement. At one point, there were more fans watching on mobile in Toronto than in the entire U.S., Rogers said. More than 700,000 Canadians are registered to play hockey, compared with 500,000 in the U.S., a nation with about nine times the population, according to the countries' hockey associations.
Online streaming is becoming increasingly important for media companies. Rogers has lost cable customers for five consecutive quarters as users ditch traditional TV subscriptions for Internet-delivered services. Products like GameCentre Live are part of Laurence's strategy to retain high-value customers with free or exclusive offerings, he said during the Oct. 23 conference call.
NHL Deal
Rogers, based in Toronto, has lagged behind Bell and Telus in adding new wireless subscribers. Revenue at the company's media unit, which includes subscriptions to the hockey app, was unchanged last quarter at C$440 million. Rogers's total revenue for the third quarter was C$3.25 billion.
Rogers shares have fallen 6.5 percent this year, while BCE has gained 15 percent and Telus has risen 16 percent.
When Rogers announced its arrangement with the NHL a year ago, it trumpeted the deal as the first time the NHL was granting all Canadian rights to a single broadcaster. Now, an adverse ruling from the regulator may call into question whether the contract to broadcast Canada's favorite sport is as valuable as originally thought.
Web Content
The CRTC's rules say features developed exclusively for Internet customers don't have to be shared. Bell and Telus argued in submissions to the regulator that the unique camera angles are derived from TV content and, therefore, shouldn't be treated as Internet-only.
"Canadians should be able to access the content they want from the provider of their choice, and not be forced to pay for multiple wireless or Internet services," Shawn Hall, a spokesman for Telus said in an e-mail.
Rogers's GamePlus denies content to rivals' subscribers and gives Rogers an anticompetitive advantage, Bell said in its submission to the CRTC. A representative for Bell didn't respond to requests for comment.
Rogers says it designed the app specifically to comply with the regulations.
"If this isn't Internet content, what is?" Ken Engelhart, Rogers's head of regulatory affairs, said in a phone interview. "We're pretty confident that what we've done here does comply with the CRTC rules."
Rogers also said it isn't concerned about recouping its investment in the NHL.
Advertising, Sponsorships
"We fully expect that revenues generated by advertising, sponsorships and subscriptions to our SportsNet properties will more than offset the costs over the duration of the contract," Patricia Trott, a spokeswoman for Rogers, said in an e-mail.
Hockey will be a high-profile issue for the CRTC, which could further define its policy on how broadcasters can market their content in a world where viewers are moving from TVs to tablets and smartphones.
"The question that's being asked of the CRTC in this particular case is, 'What does designed primarily for TV mean?'" said Benjamin Klass, a communications policy researcher at Carleton University in Ottawa. "Because at this point, from the consumer's perspective, what's the difference?"
Denis Carmel, a spokesman for the CRTC, said he couldn't comment on the proceeding. He said the commission could make a decision based on the submissions or call for a public hearing.
Media Power
The CRTC is concerned about the power that companies like Rogers and Bell have because they own both the content and the delivery tools, said Ghose of Canaccord Genuity. That may persuade regulators to rule against Rogers and force the company to share all NHL content, he said.
While Rogers wants people to watch content over its own networks, the company could at least charge extra if the regulator makes it share all the camera angles, said David Heger, an analyst with Edward Jones & Co. in St. Louis.
"People watching on other devices and racking up more wireless usage, that's ultimately the name of the game," Heger said. "If they're going to have to offer it to everyone, I think they should be able to get some premium for it over the regular service."
(An earlier version of this story corrected the population size comparison in the seventh paragraph.)
Before it's here, it's on the Bloomberg Terminal.
LEARN MORE