Ferguson Protesters Ignore Obama's Call for Calm
Andrew Harris, Tim Bross, Elizabeth Campbell and Toluse Olorunnipa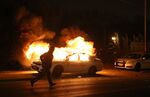 A white Missouri police officer who shot and killed an unarmed black teenager avoided indictment by a state grand jury, as prosecutors said the teen attacked the officer in his car. The decision touched off new protests in the St. Louis suburb of Ferguson, where the shooting took place three months ago.
The grand jury, composed of nine whites and three blacks, declined to charge Darren Wilson, 28, for the Aug. 9 killing of Michael Brown, 18, in a street encounter, St. Louis County Chief Prosecutor Robert P. McCulloch announced today. The panel began hearing evidence Aug. 20 after days of protests triggered a police response that was criticized as militaristic and rekindled a national debate on race and law enforcement.
A crowd of at least 300 people gathered outside the Ferguson Police Department erupted into a collective moan as the decision was announced. Some members of the crowd began running down the street while others stood in the road blocking traffic.
Brown's mother, Leslie McSpadden, spoke among the protesters after the decision was announced, crying as she repeated, "Y'all wrong, y'all wrong!"
Dozens of police officers in riot gear assembled in front of the station, at one point rushing into the crowd to arrest someone. A cardboard sign flew from the crowd toward the police, who wore shields and helmets. A series of pops that might have been gunfire or fireworks scattered the crowd at about 9 p.m. local. A line of about 50 police in riot gear moved behind cruisers in the department's parking lot to take cover.
Tear Gas
Police told protesters over a loudspeaker, "Stop throwing rocks at police or you will be subject to arrest." A crowd ran to escape a cloud of tear gas.
Protests had been planned in dozens of cities, including New York and San Francisco. In Seattle, dozens of people blocked traffic at an intersection near Westlake Park in downtown Seattle, TV news reports showed. Some laid down in the road. One protest sign read, "Black Lives Matter."
President Barack Obama, in a televised address, repeated statements by Brown's family calling for protesters to remain non-violent. "There's never an excuse for violence," Obama said, adding that concerns in black communities about law enforcement need to be addressed. "We do have work to do here, we shouldn't just paper it over.'"
Physical Evidence
McCulloch said the grand jury members met a total of 25 days beginning Aug. 20 and are the only people who heard every witness and examined every piece of evidence. He said many witness statements were contradicted by physical evidence in the case.
Some eyewitnesses said Brown was shot as he raised his hands in surrender. McCulloch said he attacked Wilson while the officer was in his patrol car.
Brown's blood was found inside Wilson's vehicle and on the gun, which was fired twice in the car, McCulloch said.
McCulloch said his heart went out to Brown's family. "As tragic as this is, it was not a crime," he said. "It doesn't lessen this tragedy that it was a justifiable use of force in self defense."
Lori Lightfoot, a former federal prosecutor in Chicago, said, the prosecutor's summary didn't provide detail on why Wilson believed he needed to use lethal force.
"Why were those shots necessary?" Lightfoot asked. "That question was not answered. People are not going to feel satisfied until they understand what the evidence was and what reasonable conclusions could be drawn from that evidence.''
Brown's Family
Benjamin Crump, a lawyer for Brown's family, said in a posting on Twitter, that his parents are ''profoundly disappointed that the killer of our child will not face the consequence of his actions."
The federal government is examining the Ferguson police department, its training and operating procedures. U.S. Attorney General Eric Holder said the investigation was prompted by conversations he had with residents who expressed a "deep mistrust" of the city's police, who are mostly white in a majority black city.
"People consistently expressed concerns stemming from specific alleged incidents, from general policing practices, and from the lack of diversity on Ferguson's police force," the attorney general said at a press conference in September.
The NAACP Legal Defense Fund urged the U.S. Justice Department to move quickly with its investigation of Brown's death and the Ferguson police department.
Militarized Response
"The tragedy of Mr. Brown's death at the hands of Officer Wilson, as well as the overwrought, often unconstitutional, and overly-militarized response to protests in Ferguson are harsh and painful reminders of the work that we all must undertake to fulfill America's promises of racial equality and justice," the group said in an e-mailed statement.
McCulloch won't bring charges himself or submit the case to another grand jury unless additional relevant evidence arises, his spokesman, Ed Magee, said Nov. 10.
Wilson's lawyers said in a statement published by the St. Louis Post-Dispatch newspaper that the officer was following his training and the law when he shot Brown.
"In a case of this magnitude, a team of prosecutors rightfully presented evidence to this St. Louis County grand jury," according to the statement. "We recognize that many people will want to second-guess the grand jury's decision. We would encourage anyone who wants to express an opinion do so in a respectful and peaceful manner."
Grand Jurors
Seven of the grand jurors were male, five were female and they varied in age and socioeconomic status, as well as where they live in St. Louis County. At least nine of them would have to agree to a charge in order to indict.
Ferguson is a municipality of about 21,000 people, 70 percent of whom are black. As of September, 50 of the city's 53 police officers were white.
The Brown shooting touched off days of racially charged demonstrations that included looting. Ferguson police used tactics including the deployment of an armored vehicle and aiming assault rifles at protesters. Rallies were held last month under the banner "Ferguson October," and spread to the city of St. Louis, 8 miles (13 kilometers) to the southeast.
Protests and arrests occurred almost regularly through this past weekend. Organizers issued a post-decision rally "call to action" on the website Ferguson Action.
State Police
Earlier this month, Missouri Governor Jay Nixon, a Democrat, said hundreds of local and state police had received special training to respond to possible civil unrest and that National Guard troops could be called in if violence overwhelms first-responders.
The national guard will "provide security at critical facilities like fire houses police stations and utility substations," Nixon said today at a press conference. "This will help free up law enforcement officers to do their jobs."
Some businesses in downtown Clayton, the location of the courthouse where the grand jury met and like Ferguson a suburb of St. Louis, were closing early ahead of the grand jury announcement, and at least four businesses along Central Avenue, just blocks from the Buzz Westfall Justice Center, were boarded up.
Todd Stimson, owner of the Potbelly Sandwich Shop, less than a five-minute walk from the courthouse, already had framework set up to cover his storefront, and planned to fully board up tonight.
"Mainly it's just precautionary," Stimson, 43, said in an interview. "I don't think there's going to be any sort of drama like in Ferguson."
Ashley Yates with Millennial Activists United said protesters were ready, no matter what the decision is.
"If it's a non-indictment, we're out," Yates said while walking in Clayton. "If it's an indictment, we're out. This is not just about Mike Brown. His death was the catalyst."
+For Related News and Information: Ferguson Police Name Officer in Killing, Say Teen Was a Suspect
-- With assistance from Mark Niquette in Columbus.