Ferguson Boils Over, While Stocks Flirt With Record Highs
By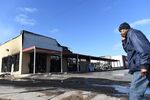 Young black men in America have good reason to feel like they're on the outside looking in. The unemployment rate for black males aged 16-24 was 22 percent in October, twice the rate for white males of the same age. Among white males aged 35-44, unemployment is just 3.2 percent—so low that the recession of the past decade feels like a distant memory.
While Ferguson, Mo., is boiling over, the news in the wider world is considerably brighter. The government today revised upward its estimate of third-quarter economic growth to an annual rate of 3.4 percent. Coupled with a 4.6 percent annualized gain in the second quarter, it was the best half year since late 2003. "Nominal domestic corporate profits rose at a healthy 10.4 percent annual rate," Goldman Sachs noted. Action Economics called the report "a big upside GDP surprise." Stock investors reacted positively to the good news on gross domestic product: Stock prices in late-morning trading on Nov. 25 remained near the record highs reached Monday, Nov. 24.

In Ferguson and nationwide, a rising tide is not lifting all boats. The divide between the fortunes of young black males and much of the rest of the country helps explain—not excuse—the rioting that broke out Monday night in Ferguson following the announcement that a grand jury returned no indictment against a white police officer who fatally shot 18-year-old Michael Brown in August.
Businesses were looted, police cars burned on the street, and a dozen buildings were torched, as Bloomberg News reported. "By midnight, the St. Louis County Police Department reported 'heavy automatic gunfire' in the area and buildings ablaze, including a storage facility, meat market and pizza shop. Rocks, bottles, batteries and a Molotov cocktail were hurled at officers, it said. At the Beauty Town supply store, smoke billowed from broken windows as a fire hissed and boomed."
Some leaders of the protests, such as Patricia Bynes, a Democratic committeewoman for Ferguson Township, urged people to stay off the streets Monday night. Those who turned violent were a minority of all those who were upset by the grand jury's decision.
"There's decades' worth of anger," says Jeffrey Smith, an assistant professor of politics and advocacy at New School University's Milano School, who has written an e-book titled Ferguson: In Black and White. Black drivers were disproportionately stopped by police, and those who couldn't pay their fines were sometimes thrown in jail, Smith notes. "That guy who went to jail for three weeks for traffic fines? That's the guy who just threw the brick in the window last night," Smith said, speaking in the abstract. "It's not that hard to understand."

Before it's here, it's on the Bloomberg Terminal.
LEARN MORE