pursuits
Thanksgiving Travelers Will Gorge on 8,300 Cinnabons Per Hour
By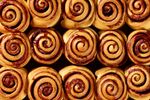 Maybe airport food is getting healthier. But if you find yourself snowbound in a terminal at any point over the holiday weekend, there's a good chance an 880-calorie cinnamon roll will be there to ease your misery.
Cinnabon, a mainstay of malls, airports, and travel plazas, expects to sell nearly 1 million rolls nationwide from Wednesday to Sunday. That works out to roughly 8,300 sweet rolls each hour over the five-day span. "Some people wait all year to indulge," says Deborah Rowley, Cinnabon's vice president of new market operations.
The holiday season is such a busy time that Rowley says executives have adopted an internal nickname for the weeks from Black Friday to Jan. 2: "Jollybon." Sales increase about 50 percent compared with the average day. Even Google searches for Cinnabon increase during this special time. The single busiest Cinnabon location overall: the Las Vegas airport.
Cinnabon starts planning for the holidays in September, organizing regional "Jollybon meetings" to prepare the workforce for the impending rush. This means staffing up and training—the busiest locations may see the number of workers double during the holidays—and ordering more ingredients.

The Thanksgiving boom is still overshadowed by Christmas Eve, Cinnabon's single busiest day each year. Some stores will get 500 preorders that day. "That's no lie. It's kind of crazy," says Rowley. Mall-based Cinnabon franchisees bring in 60 percent of their profits in the last eight weeks of the year.
As for the actual eating of the rolls, Duane Stanford describes this particular spiritual experience in Bloomberg Businessweek:
"It's difficult to understand the way the Classic Roll supercharges multiple senses at once—unless you have eaten one. The plastic knife cuts through an outside that's mildly crusty before giving way to a softer middle. Frosting melts into the ridges of the bun, which sits in a brown puddle of excess. Take a bite and the buttery flavor bathes the edges of the tongue as the gritty sweetness of sugar and cinnamon washes over the tip. The texture is lighter than expected. The sensation of pure sugar can be overwhelming. It coats the mouth and clogs the back of the throat. Halfway through the roll, the body cries out for water or, even better, Diet Coke, which has a way of cutting through the varnish laid by the fats and sugars. Deep inside the roll, the bun's core is hot and yet just barely cooked. Once gone, the bottom of the clamshell box is left smeared like a crime scene with a mash of syrup and cream cheese."
In the aftermath of much gooey indulgence, it's really no wonder gyms and such services as Weight Watchers see business spike at the start of the year. That's a concern for another month.
Before it's here, it's on the Bloomberg Terminal.
LEARN MORE