RBA's Lowe Sees Aussie Dollar Falling With Commodity Prices
Michael Heath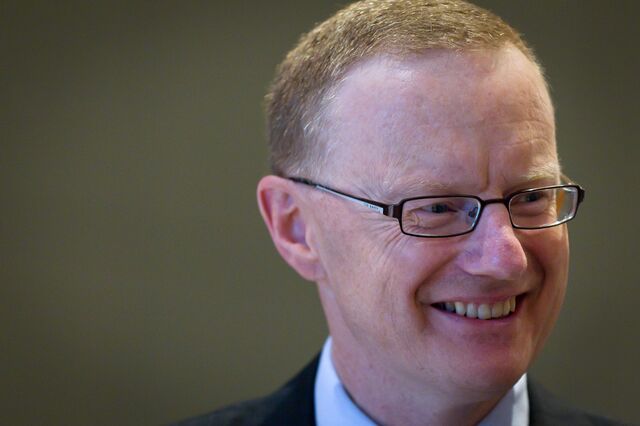 Australia's dollar is likely to drop in line with commodity export prices, central bank Deputy Governor Philip Lowe said, as the currency hit a four-year low.
"If the exchange rate is to play its important stabilizing role, it needs to go down when the terms of trade and investment are declining," Lowe said in a speech in Sydney late yesterday. "We have seen some adjustment, but if our assessment of the fundamentals is correct we would expect to see more in time."
While the Australian dollar has fallen more than 8 percent in the past three months, it remains elevated as the nation's key interest rate of 2.5 percent attracts investors away from the U.S., Japan and Europe where benchmarks are at or near zero. The yield difference has helped the Aussie resist a fall in the terms of trade, or export prices relative to import prices, that normally guide its trajectory.
In a speech that set out Australia's challenges and comparative advantages over developed-world peers, Lowe said complaints about the cost of doing business in Australia are really a currency issue.
"Concerns about the overall level of wages in Australia are, to some extent, really concerns about the exchange rate, with the high exchange rate leading to high wages expressed in foreign currency terms," he told the Australian Business Economists' annual dinner. "A lower exchange rate would obviously make a difference to these comparisons."
The currency traded at 85.44 U.S. cents at 12:03 p.m. in Sydney today after falling to as low as 85.14, the lowest level since 2010.
Record-Low Rate
The Reserve Bank of Australia has kept its benchmark rate unchanged at a record low for 15 months as it seeks to encourage spending by consumers and companies to offset falling mining investment. Australian companies have opted to pay dividends or salt away cash rather than invest in new projects as they wait for higher household demand, which has been damped by 11-year high unemployment.
Government data today showed that construction work done fell a greater-than-expected 2.2 percent in the three months through September, the third decline in the past four quarters.
Loose policy has spurred Australia's housing market, particularly in the east coast cities of Sydney, where prices rose 13.1 percent in the year through October, and in Melbourne where they were up 8.9 percent.
Rate Stimulus
"We are seeing lower interest rates lead to higher asset prices and that's inducing more real activity in the economy," Lowe said in response to an audience question after the speech. "If further interest-rate reductions were required, they would have some effect in stimulating economic activity."
Lowe sought to strike a positive note in his address, saying an expanding population, links to fast-growing Asia and abundant resources should instill confidence that the economy will generate jobs and prosperity.
"Uncertainty is also normal," Lowe said, referring to the decline in mining investment that had underpinned growth. "It is important that we guard against the possibility that this uncertainty mutates into chronic pessimism."
Lowe said a key advantage for Australia is its "people-to-people relationship" with Asia, a region that has driven the global economy since the 2009 recession.
Asian Born
About 8 percent of Australia's population was born in East or Southeast Asia or India, Lowe said, compared with less than 1 percent when he was born in the 1960s. By contrast, in the U.S. only about 3.5 percent of the population was born in Asia and for most European countries less than 2 percent.
Moreover, in the past decade Australia has had almost the fastest population growth in the developed world, and in a decade it will be 17 percent bigger, an extra 4 million people.
"Contrast that to the situation in Japan where, over the next decade, the population is expected to decline by about as many people as currently living in Melbourne," he said. "In Australia, we are likely to add roughly another Melbourne to our population over this period."
Lowe also said that while mining investment was declining, export revenue was advancing. For many years revenue from resource exports was equivalent to 5 percent to 7 percent of gross domestic product, he said, but this has recently doubled to be around 12 percent of GDP.
With a large increase in liquefied natural gas exports, the figure may go even higher, he said.
"The Australian economy clearly has some challenges ahead, but we would be selling ourselves short if we dwelt exclusively on these challenges," Lowe said.
Before it's here, it's on the Bloomberg Terminal.
LEARN MORE