Bank Hapoalim Joins Flug Seeing Economic Rebound: Israel Markets
Jonathan Ferziger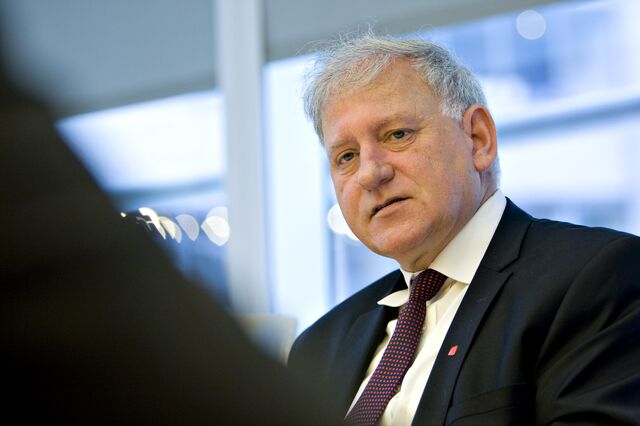 Israel's economy is set to rebound as near-zero interest rates stoke consumer spending, said the chairman of the country's biggest lender by assets, Bank Hapoalim Ltd.
Cheaper credit and a weaker shekel are putting the economy on track to expand as much as 3 percent next year, Yair Seroussi said yesterday in a phone interview.
"We expect to see higher growth in the fourth quarter," said Seroussi, Morgan Stanley's former chief in Israel. "It would be a mistake to cut interest rates further because it will not help growth," he added, a day after the Bank of Israel held its record low benchmark rate at 0.25 percent.
Gross domestic product contracted in the third quarter for the first time in five years, after a summer war in the Gaza Strip chased away tourists and hindered production. Seroussi's comments echo Bank of Israel Governor Karnit Flug's Nov. 21 forecast that the economy will rally in the fourth quarter and expand about 3 percent next year.
Recent indicators, including rising consumer spending and exports, have pointed to a recovery. Private consumption climbed 3.9 percent in the third quarter from 3.1 percent a year earlier. Exports increased 2.8 percent after contracting 11.1 percent in the same period of 2013. Consumer prices are expected to rise 0.7 percent in the next 12 months, the Bank of Israel said Nov. 18.
"The recovery has been pretty nice," Yonie Fanning, chief economist for ILS Brokers in Tel Aviv, said in a phone interview. Regarding interest rates, he said he expects "the next move is up," though not "for a good number of months."
Weakening Shekel
The central bank mentioned rising exports and the shekel's depreciation in its decision to hold borrowing costs. It bought about $150 million today in a bid to weaken the currency further, according to Yariv Shalev, a currency dealer at Mercantile Discount Bank in Tel Aviv. A Bank of Israel spokesman wasn't immediately available for comment.
The shekel dropped as much as 0.6 percent to 3.8836 for the dollar and was trading at 3.8754 at 2:26 p.m. in Tel Aviv. It has fallen more than 11 percent since the bank announced the first of two surprise cuts on July 28. Last year, the shekel outperformed 30 other major currencies Bloomberg tracked, with a 7.5 percent gain.
Bank Hapoalim reported Nov. 24 that its third-quarter net income rose 13 percent to 740 million shekels after provisions for bad loans dropped 79 percent. Israeli banks' lending should increase by 4 percent next year, with increased credit for consumers and small businesses, Seroussi said.
"Part of it is because credit is very cheap and part of it is because the Israeli consumer now is facing a major effort of all the banks to sell them credit," he said. "The marketing is working."
The bank's shares, which reached a seven-year high in September, were up 1.4 percent today to 19.17 shekels at 11:45 a.m.
Warning Signal
Fitch Ratings Ltd.'s downgrade of Israel's credit outlook last week is a cue Prime Minister Benjamin Netanyahu needs to sort out his government's disarray, lower deficit spending and pass the budget on schedule by year's end, the Hapoalim chairman said.
"This is a signal to policy makers telling them, guys, you have to take care of the budget deficit and see that you have, let's call this, responsible policy," said Seroussi, who turns 59 tomorrow.
Netanyahu, less than two years into his third term as prime minister, is facing the prospect of early elections with the splintering of his governing coalition over the budget and violence erupting after the collapse of Israeli-Palestinian peace negotiations.
"Israel should have higher growth, but because of all these issues I think we will see 2.5 percent to 3 percent," Seroussi said. "All in all, the stability of government is always in the background."
Before it's here, it's on the Bloomberg Terminal.
LEARN MORE