A Cynical Time of Day
Why did it take so long to hear the grand jury's decision in the Ferguson shooting case?
By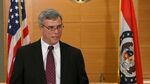 The St. Louis County grand jury reached its decision around lunchtime Monday to bring no criminal charges against Darren Wilson, the white police officer who fatally shot Michael Brown, an unarmed African-American teenager, in Ferguson, Mo., this summer. In the early afternoon, CNN Justice Department reporter Evan Perez went on air to report that the decision had come down, according to Politico, and the Associated Press sent word that it was "aware of reports of an expected announcement regarding the grand jury." 
But the announcement, by St. Louis County Prosecuting Attorney Robert P. McCulloch, did not come until 8:30 p.m. local time. Community leaders had suggested a statement on a Sunday morning: a day for church and togetherness. CNN reported that prosecutors were "expected to provide law enforcement with 48 hours notice before making a public announcement."  Neither was borne out. Brown's family was not even notified of the grand jury's decision until reports had started to appear. The unspooling was divisive and cold, and to many felt acutely disrespectful. 
Brown's killing on Aug. 9 set off protests, unrest, and debate across the country that lasted into late summer. Demonstrations, sometimes violent ones, persisted for weeks. The contours and activity of West Florissant Avenue became the stuff of news coverage worldwide.
Over three months, suspense had only grown in the run-up to the grand jury's decision. Many suspected that Wilson would not be indicted; as the comedian Michael Che joked on "Saturday Night Live," about Nixon's preemptive deployment of the National Guard ahead of the decision: "Spoiler alert: I guess we know what the verdict is." When word came, it did feel that way, or so it seemed in many of the reported 3.5 million-plus tweets on the topic. A military-style response had been mobilized.
McCulloch's timing only exacerbated the anger. It is late November, the week of Thanksgiving. It is cold and, by 8:30 p.m., it is dark. Crowd control is far more difficult at night. Marching—not to mention looting—is far more disruptive. 
Governor Jay Nixon said that McCulloch had chosen the timing for the news conference. On Tuesday, a spokesman for McCulloch, Ed Magee, said the timing was to ensure children would be safe and businesses could decide how to handle the situation, and that it was done in coordination with law enforcement. (Of course, safety is in the eye of the beholder, or perhaps the beheld—Brown was a teenager shot on the street in daylight.)
Wilson's grand jury testimony became public after McCulloch's announcement. It paints a petrified officer up against a brute the size of Hulk Hogan. According to Wilson, Brown grabbed Wilson's gun and told him, "You are too much of a pussy to shoot me." Wilson testified that Brown "had the most intense aggressive face. That's the only way I can describe it, it looks like a demon, that's how angry he looked." Wilson fired a series of shots, and then again: "And that face that he had was looking straight through me, like I wasn't even there, I wasn't even anything in his way." He said, "I know if he reaches me, he'll kill me."
In these words is both fear and, for a police officer, a startling sense of inevitability. "That face," the face of a demon, a face that hardly bears the mark of a human—Wilson painted Brown as inevitably violent.
The prosecutor's announcement had something of this in it. McCulloch was cold and chore-like, not to mention tone-deaf—he spoke of grand jurors who "gave up their lives." His words would have caused rage no matter what; he could at least have tried to inspire calm. Instead, McCulloch came across as detached, perhaps even angry. And he was the one keeping the public up later and later. 
In the early hours of this morning, St. Louis County Police Chief Jon Belmar told the Associated Press that the protests were "probably much worse than the worst night we ever had in August." He said he heard about 150 shots fired. He spoke of more than a dozen businesses burning. But last night did not have to be so bad.
Bloomberg News' Tim Bross contributed reporting.