U. of Virginia Suspends Fraternities After Rape Report
John Lauerman and Janet Lorin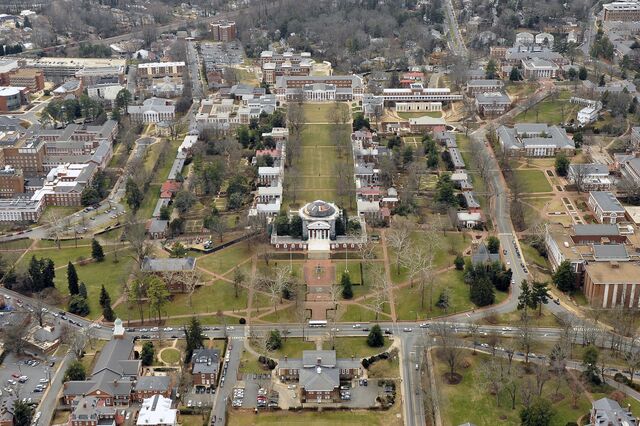 The University of Virginia's campus is in an uproar after an article in Rolling Stone magazine detailed the university's handling of an alleged 2012 gang rape at a fraternity house.
The school's board meets tomorrow to discuss policies for responding to sexual assault. President Teresa A. Sullivan suspended UVA's more than 30 fraternities until Jan. 9. After a weekend of protests, students today called for change in a culture that they said excuses rape at the campus and on a national level.
"The culture here is not just a UVA issue," Ashley Brown, the leader of One Less, a group that helps sexual-assault survivors, said at a student news conference broadcast by WRIC in Charlottesville. "This is a pervasive national epidemic."
The Rolling Stone article tells the story of a brutal gang rape at the Phi Kappa Psi fraternity house, how the friends of the unnamed victim were more concerned with their future social status than in reporting what happened, and the university's poor handling of the incident. While suspending all fraternities seems harsh, it shows that UVA is serious about addressing sexual assault, said junior Emily Keenan, 21.
'Severe Steps'
"It's a good symbolic action from the administration if nothing else," Keenan said. "They're just trying to make it known that they are willing to take severe steps in some people's eyes in order to make this change."
Sullivan has asked the Charlottesville police to investigate the alleged rape. Virginia Attorney General Mark Herring said last week that UVA requested he appoint an independent counsel to review the school's policies on sexual assault and to assist UVA's review of how it addresses sexual misconduct. While Herring had initially picked former federal judge Mark Filip to serve in that capacity, his name was retracted because Filip had once been a member of Phi Kappa Psi, though not at UVA.
The suggestion that the board might appoint someone with a conflict of interest to investigate the issue sent shock waves through the campus, said John Casey, a literature professor.
"It just points out the Keystone Kops nature of all this," he said in a telephone interview.
Faculty Meeting
UVA's faculty senate may devote its next meeting to discussion of sexual assault and campus culture, said George Cohen, a member of the senate's executive council. Some teachers said they need more education about the extent of the problem at the school and how to address it, said Cohen, a law professor.
"There's a lot of research on this topic that we need to become familiar with," he said in a telephone interview. "We want to make sure we're dealing with facts."
Almost a third of students at UVA belong to a fraternity or sorority and the Greek system is a focal point of the school's social life. The victim is a current third-year student, according to the article.
"The Greek community needs to do some serious soul searching about the way it behaved, about the behavior it's tolerated, and what its future is going to be," Sullivan said in a weekend interview with WVIR-TV in Charlottesville.
The article in Rolling Stone focuses on the experience of a female student, identified as Jackie. Four weeks into her freshman year, she was invited to a fraternity party by a frat member she met when they both worked as lifeguards. At the party, Jackie's date led her to a bedroom where she was raped by seven men, who cheered each other on, according to the article.
Reporting Options
At the end of her freshman year, the female student reported the incident to Dean Nicole Eramo on the advice of a psychiatrist, according to the article. The dean explained various options such as filing a criminal report, filing a formal complaint with the school's Sexual Misconduct Board that would lead to a campus hearing, or using an "informal resolution" process to speak to the alleged attackers.
In a statement last week, Sullivan said many of the details of the incident hadn't been disclosed to the university.
Colleges across the country have been cracking down on fraternities because of concern about out-of-control behavior. In September, three colleges took action after serious episodes.
Clemson University in South Carolina said it suspended new-member and social activities at its 24 fraternities after a student died while taking part in a fraternity-related run. California State University at Northridge suspended the Pi Kappa Phi chapter, which later agreed to disband, for hazing violations after a student died on a hike. Penn State Altoona barred a fraternity for six years amid investigations of a student suicide that may be hazing-related.
Beyond Fraternities
Dozens of colleges and universities are under federal investigation for alleged violations of Title IX, the law that prohibits gender discrimination in education, and the Clery Act, which requires schools to report campus violence. Failure to address sexual assault is a violation of Title IX. The issue goes further than just fraternities, said Tal Benatar, a 21-year-old senior who is a member of one of the societies.
"It's important that it's been brought to the attention of the whole community," said Benatar, from Columbus, Ohio who is studying American government and music. The discussion created by the story is "going to be a big, positive step in helping with this issue and giving it the appropriate amount of attention," he said.
UVA is one of the schools under investigation by the U.S. Education Department. In February, the university held a two-day conference on sexual misconduct among college students.
Rape Stigma
One of the surprising aspects of the UVA case is that the alleged victim didn't go to the police, said Linda Fairstein, former head of the sex-crimes unit in the Manhattan District Attorney's office. The magazine reported that the student was concerned about the stigma of rape, which Fairstein called a throwback to times when such crimes were considered unspeakable.
"The case that's being reported is as serious first-degree rape as any I encountered in my years of prosecuting," said Fairstein, a UVA graduate who is a pro-bono consultant to its law school on sexual-assault policy. "I just don't see any other place for this than the criminal justice system."
It's the second time in two years that the campus has been riven by protests. In June 2012, Sullivan was ousted by the board, which wanted a leader who would push for more cost cuts and move toward online learning. She was reinstated a few weeks later after students, faculty and alumni came to her defense.
The suspension of the fraternities ends a few days before the start of the spring semester at the school founded by Thomas Jefferson.
Before it's here, it's on the Bloomberg Terminal.
LEARN MORE