Tunisia Presidential Election Seen Headed for Runoff Vote
Tarek El-Tablawy and Jihen Laghmari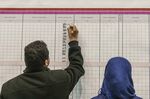 Tunisia's landmark presidential race appeared headed for a December runoff pitting the incumbent against an octogenarian who served as a minister in the ousted regime.
The election of a president is meant to cap a tumultuous transition to democracy in the North African nation that was the cradle of the Arab Spring. The campaigns of both President Moncef Marzouki, who ran as an independent in yesterday's vote, and 87-year-old Beji Caid Essebsi, fielded by the secular Nidaa Tounes coalition, said neither man appeared to secure the majority needed to avoid a second round.
"These are encouraging results," Rafie Bin Ashour, a Nidaa Tounes leader, said in televised remarks yesterday. "We consider this to be the first round. There will be a second round." Nidaa Tounes said Essebsi had a commanding lead.
Lotfi Mighri, an official in Marzouki's campaign, said Essebsi's advantage was likely to narrow to 3 percentage points as the counting continued. Twenty-two candidates faced off in yesterday's ballot, with turnout at 65 percent, the state-run TAP news agency reported, citing elections commissions chief Shafik Sarsar.
Marzouki is a former human-rights activist. Essebsi came out of retirement to become the country's first post-revolutionary premier.
The presidential race is meant to be the final step in Tunisia's transformation from dictatorship to democracy after a popular revolt ended President Zine El Abidine Ben Ali's two-decade rule. The president will serve for five years and govern with a prime minister chosen by the parliament.
Tumultuous Transition
Nidaa Tounes won last month's parliamentary elections, defeating the moderate Islamist Ennahda party that governed after the revolution. Ennahda didn't field or back a candidate in the presidential election.
Tunisia's evolution to democracy has lasted more than three years, exacting a toll on the nation's economy and triggering bouts of unrest. The assassinations of two liberal opposition leaders last year contributed to the fall of Islamist-led governments, and security forces have clashed repeatedly with militants. Hundreds of Tunisians are thought to be fighting on the side of Islamic State radicals battling to control Syria and Iraq.
The new government also faces the daunting task of reviving a largely moribund economy, with tourism receipts dried up since the 2011 uprising and joblessness at 15 percent. Youth unemployment is roughly double that rate.
Even so, Tunisia has been spared the worst of the unrest that gripped and battered other Arab Spring nations such as Egypt, Libya, Syria, Yemen and Bahrain.
The challenges ahead will require Tunisia's politicians to work together in the national interest, said Abdel Latif Hannachi, a professor of modern history at Manouba University in Tunis: "They know they have to come to an agreement despite their differences."
Before it's here, it's on the Bloomberg Terminal.
LEARN MORE