This Viral Video Raised $1.5 Million for Ebola, But Who's Getting the Money?
by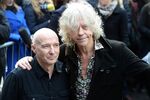 On Nov. 17, Band Aid 30, Bob Geldof's British charity organization—formerly known as Band Aid—put out an Ebola-themed remake of Band Aid's original 1984 charity song, Do They Know Its Christmas? The song raised more than $1.5 million in minutes to fight the deadly disease, and is currently No. 1 on the U.K. album charts and No. 49 on RealiTunes. But where is the money going?
The answer: It's hard to tell. On its website, Band Aid 30 promises that proceeds "will be donated to the intervention and prevention of the spread of Ebola," but doesn't specify which aid groups it's working with and why. "No where on the website do they state exactly how the money will be going to fight Ebola," Sandra Miniutti, vice president of marketing at the charity watchdog group Charity Navigator, wrote in an e-mail to Bloomberg Businessweek. "This, of course, is troublesome." Bloomberg Businessweek's requests for more information from Band Aid 30 and Geldof's office went unanswered.
Band Aid 30 is the most recent iteration of Geldof's many music-related charity entities, which also include Live 8, a series of charity concerts he put on in 2005. Since then, the organization has done a little fundraising here and there, and has earned money from concert DVD sales, licensing agreements, and publishing royalties.
Donations are kept in the Band Aid Charitable Trust, which according to Charity Navigator has a pretty solid rating, despite the lack of transparency on its website. In 2012, the trust worked with about 19 organizations including Oxfam, Unicef, and the British Red Cross. According to Charity Navigator, it spent about 2 percent of its money on fundraising efforts, which is low; Miniutti says most nonprofits spend more than 10 percent on fundraising. The American Cancer Society, for example, spends about a third of its money on fundraising. Over the years, the Band Aid Charitable Trust has raised more than $193 million.
In interviews, Geldof said that he formed Band Aid 30 at the request of the United Nations, which has been struggling to raise money to fight the disease. In September, the UN announced that it needed about $1 billion to stop the spread of Ebola in Africa; a month later it announced that it had only managed to raise $100,000.
The UN's Global Ebola Crisis Response program partners with a number of organizations including the World Health Organization, the Centers for Disease Control and Prevention, and Médecins Sans Frontières (known in the U.S. as Doctors Without Borders). Doctors Without Borders says it has not yet been contacted by Band Aid 30, although it is receiving money from Africa Stop Ebola, another charity song created by Senegalese, Malian, and Ivorian musicians, with lyrics that help Africans know what to do to stop the spread of the disease. (The lyrics, which are partially in French, include instructions not to touch infected people or dead bodies.)
It's unclear which of the UN's partner organizations will end up receiving Band Aid 30′s money, or if some will be reserved for local government initiatives, too. A recent New York Times investigation found that while all the UN-approved international nonprofits have received their allotment of UN money, only 7 percent of the money designated to go to the Liberian government has been dispensed.
On top of the vague, we're-fighting-Ebola promise on its website, Band Aid 30 has also been criticized for its schmaltzy production and tone-deaf characterization of Africa in Do They Know It's Christmas? (Why is it assumed that an Ebola-stricken region doesn't know about Christmas?) But even more surprising is the fact that 30 years after the original Do They Know It's Christmas? the same fundraising tactic—with the same song, even—still works.
Before it's here, it's on the Bloomberg Terminal.
LEARN MORE