Why Thailand's Junta Is Afraid of The Hunger Games
By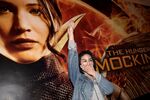 Thailand's generalissimo, Prayuth Chan-Ocha, has been head of a junta after yet another coup by the Thai military in May. He's since become prime minister, promised a return to democracy, and made a name for himself internationally with joking comments following the deaths of two British tourists.
Oh, and Prayuth has also detained people for daring to read 1984 in public.
Big Brother isn't the only fictional dictatorship that seems to scare the general. The Hunger Games and its depiction of a popular rebellion against a ruthless regime strikes a little too close to home, too. The movie is a major inspiration for one of Thailand's leading anti-junta groups, the League of Liberal Thammasat for Democracy. The profile picture on the group's Facebook page is the three-fingered salute from The Hunger Games, and the group's Facebook cover photo also features the salute, along with a quote from Katniss Everdeen, The Hunger Games heroine played by Jennifer Lawrence in the quadrology: "It must be a fragile system if it can be brought down by just a few berries."
The generals running Thailand aren't taking any chances. Yesterday, police in Bangkok detained three students for giving the three-fingered salute, a day after holding five protesters who made the gesture during a speech by General Prayuth in the northeast of the country. Police later released the three Bangkok students, but the cinema called off screenings of the latest in the series, The Hunger Games: Mockingjay-Part 1.
Hollywood studios are increasingly relying on audiences in Asia, but with that reliance comes greater risks of triggering controversy. North Korean leader Kim Jong Un was so angry about an upcoming James Franco and Seth Rogen picture mocking him that he fired missiles in the direction of Japan and his government threatened to take further action on behalf of all of Kim's loyal subjects. "It is their firm determination and stamina to mercilessly destroy anyone who dares hurt or attack the supreme leadership of the country, even a bit," a North Korean spokesman declared.
Chinese President Xi Jinping can't match the North Koreans when it comes to scenery-chewing bravado, but China's government has taken steps of its own to keep Hollywood under control. The government maintains a quota on the number of foreign films that can enter the Chinese market each year. Foreign programming on online video services such as Youku Tudou can't exceed 30 percent of total content.  Early this year, censors banned shows such as The Big Bang Theory and The Good Wife from the sites.
Thailand's junta might be less nervous if the generals were overseeing a thriving economic recovery. Growth, however, is tepid at best: The economy will expand just 0.8 percent this year, according to a Bloomberg survey of 25 economists, down from an earlier consensus of 1.5 percent. And while economists expect next year to be better, with gross domestic product expanding 4 percent, many Thai business executives seem to be wary about conditions at home. After meeting with 11 Thai business leaders, Hozefa Topiwalla and Aarti Shah of Morgan Stanley wrote in a report published on Wednesday that "private companies were focused more on expanding internationally either in neighboring countries or other ASEAN countries, rather than committing significantly to domestic growth in 2015."
Appearing fearful of a Hollywood movie won't help the government's efforts to spin the Thai recovery story. "Thailand," Sunai Phasuk, a Human Rights Watch senior researcher, told Bloomberg News, "is still not a normal country."
Before it's here, it's on the Bloomberg Terminal.
LEARN MORE