Santorum: No Decision Yet On White House Run
The runner-up to Mitt Romney for the Republican nomination in 2012 is weighing a second campaign.
By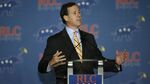 Rick Santorum is doing the kinds of things that presidential candidates do two years before an election, like campaigning for candidates, talking to prospective supporters and sitting for media interviews.
The former Pennsylvania Republican senator just hasn't decided if he'll make a second bid for the White House in 2016.
"I'm doing everything consistent with a run for 2016, but I haven't made any final decisions yet," Santorum said Sunday on CNN.
Santorum criticized President Barack Obama's immigration initiative, saying it opens a "Pandora's box" for future presidents to circumvent Congress.
Republicans "should sue the president" and also seek to "defund this," Santorum said. Republicans won control of the Senate in the November 4 election and also expanded their House majority.
Obama announced executive actions last week that will halt deportations for some undocumented immigrants, though he's said the measures are a first step and that legislation is needed for more comprehensive changes. He pressed the House again to take up a rewrite of immigration laws that the Senate passed 17 months ago with some Republican support.
Santorum said that Obama and Democrats didn't take up immigration legislation when they controlled the White House and Congress for all of 2009 and 2010. The U.S. needs "immigration control" to protect jobs and wages for working-class Americans, he said.
Santorum has close ties to social-issue conservatives, who helped propel him to wins in the Iowa caucuses and in 10 other contests in 2012. He was the runner-up to Mitt Romney for the Republican nomination.