Tesla Grabs a New (Old) Spokesman From Square
by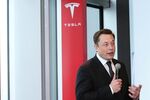 Tesla Motors has turned to a familiar face to revive its communications operations. On Monday the company sent out an internal memo naming Ricardo Reyes as its communications chief.
Reyes ran the department at Tesla during some of the carmaker's most trying times. He helped bring the Roadster to market and laid much of the groundwork for the Model S. In 2012, after three years on the job, Reyes left to head communications at payment startup Square.
Tesla announced to its staff today that Reyes has returned to the fold. He'll oversee public relations, communications with customers, and Tesla's presence online. "When I first went to Tesla, I thought the company had this incredible mission, and then there were the tall odds and challenges that attracted me," Reyes says. "As I look at it now, the company has not lost any of that drive or ambition, and the mission is really clear."
There's been something of a revolving door within Tesla's communications department since Reyes left. Most recently, Simon Sproule, a former Nissan Motor executive, left Tesla after just seven months on the job, in part because of struggles he faced trying to hire more staff. The only consistent thing about Tesla's marketing has been Chief Executive Officer Elon Musk, who's used his star power, tweets, and blog posts to generate tons of attention for the company's electric cars.
Musk has built a reputation as one of the most demanding bosses in Silicon Valley. Reyes obviously has firsthand experience with Musk's expectations, and he's proven to have the CEO's ear. Recruiters spent weeks scouring Silicon Valley, Detroit, Washington, and beyond for "someone like Ricardo" due to his reputation as working well with Musk. Ultimately, Musk helped bring back the actual guy.
In the coming year, Tesla will ramp up marketing around the Model X, an upcoming electric SUV. It's also building out a giant battery factory and a cheaper third-generation car. Tesla hasn't spent money on traditional advertising to date, relying instead on its technology, Musk, and a soaring share price to stay in the public eye.
Before Square and Tesla, Reyes ran communications at YouTube and handled communications at Google. His departure will be seen as a big blow for Square, which is battling in a suddenly crowded market space for new payment systems that includes Apple, PayPal's Venmo, and the startup Stripe.
Before it's here, it's on the Bloomberg Terminal.
LEARN MORE