Giuliani: I 'Saved More Black Lives' Than Any Previous Mayor
The former mayor appeared on "Fox & Friends" to defend his comments from over the weekend.
By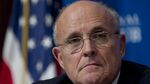 Former New York City Mayor Rudy Giuliani on Monday defended his comments about Ferguson from over the weekend, saying he "saved more black lives" than any previous mayor.
Giuliani ignited the latest Ferguson-related Twitter firestorm on NBC's "Meet The Press" Sunday when he said that white police officers wouldn't need to be in the Missouri town if black people "weren't killing each other." The former presidential hopeful then got into it with Georgetown professor Michael Eric Dyson. 
Appearing on "Fox & Friends" on Monday morning,  the former mayor defended his stance, pointing to the reduction of crime rates in New York City under his administration. 
"Up until the time I became mayor, thousands of blacks were being killed every single year," Guiliani said. "I probably saved more black lives as mayor of New York City than any mayor in the history of the city with the possible exception of Mike Bloomberg"—the founder and majority owner of Bloomberg Politics parent company Bloomberg LP—"who was there for 12 years." 
On "Meet The Press," Giuliani was asked what should be done about other cities, where, like in Ferguson, the number of white police officers is disproportionately higher than the white population. But Giuliani didn't really want to talk about that, even though the New York Police Department is actually more reflective of the city's population than elsewhere in the country. 
"I find it very disappointing that you're not discussing the fact that 93 percent of blacks in America are killed by other blacks," he said. "We're talking about the exception here." 
Dyson, a frequent MSNBC contributor, took issue with the comment, pointing out that "black people who kill black people go to jail," unlike many white police officers who kill black people. The two sparred about the point for about two minutes, despite host Chuck Todd's repeated efforts to reign in the conversation. Dyson got the last word, referring to Giuliani's logic as "the defensive mechanism of white supremacy at work in [his] mind."
On "Fox & Friends," Giuliani said, "I'd like to see if Dr. Dyson has ever saved as many lives in his community as I've saved. And I did it by having to use police officers in black areas where there was an astounding amount of crime. If that crime was in white areas, police officers would be in white areas. If it were in Hispanic areas, it would be in Hispanic areas." 
The Twitter reaction to the Sunday comments was swift. Brooklyn-born rapper Talib Kweli pointed out that the former mayor has never been known locally for his deft navigation of racial politics. 
Atlantic editor Ta-Nehisi Coates reminded his followers that some black people share the mayor's opinion. 
Some white people on Twitter also share the mayor's opinion.