Stressed Assets at Indian Lenders Pile Up on RBI Rule
Anto Antony and Anoop Agrawal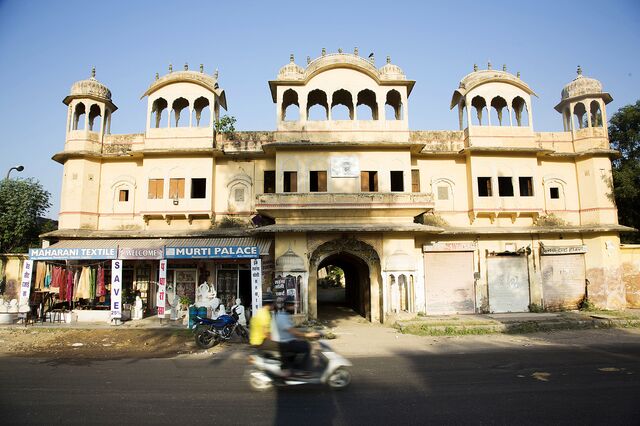 Stressed asset ratios at Indian banks are set to reach the highest in more than a decade as lenders find fewer buyers for their soured debt after a new rule tripled the cost for asset reconstruction companies.
Sales of bad loans to asset reconstruction companies by lenders tumbled to less than 10 billion rupees ($162 million) in the quarter to Sept. 30 from 150 billion rupees in the three months before, according to the nation's largest ARC. Under new Reserve Bank of India rules effective Aug. 5, ARCs must triple the amount of their own money they use when buying soured debt to at least 15 percent of the price.
Reduced interest among ARCs to buy bad loans is threatening to curb a pick-up in credit growth amid a decline in bank non-performing assets and signs of a recovery in the $1.9 trillion Indian economy under Prime Minister Narendra Modi. Loans grew 11.2 percent at the end of October, rebounding from a 9.7 percent increase in September, which was the smallest expansion in five years, according to data compiled by RBI.
"If this continues for long, the system will suffer," P. Rudran, chief executive officer of the Asset Reconstruction Co. (India), or Arcil, which was set up by the nation's biggest lenders to reorganize non-performing assets. "The RBI increased the skin in the game for ARCs. The sale of bad loans to reconstruction companies in the second quarter was abysmal."
2002 Law
Asset reconstruction companies buy soured debt and its collateral from lenders and work to recover it by reorganizing the business and assets. Arcil was the first Indian ARC formed after parliament passed a law in 2002 to help banks clear their balance sheets and cut risk by selling their bad loans.
State Bank of India, the country's largest lender, sold 4.1 billion rupees of bad loans in the quarter ended Sept. 30, compared with 60 billion rupees in the June quarter.
The central bank tightened the rule for pricing of stressed assets to make prices for soured debt more rational, Rudran said. Banks have to write off the assets sold at a higher price and set aside more provisions, if the ARCs can't recover the sale price of loans.
"There will be short-term stress on lenders' asset quality," Vibha Batra, the New Delhi-based co-head of financial-industry ratings at ICRA Ltd., the local unit of Moody's Investors Service, said in a telephone interview on Nov. 20. "Tighter rules will make India's banking system stronger and more efficient in the long run."
Bigger Pile
The stressed asset ratio in the Indian banking system was 9.8 percent as of March 31, the most recent date for which RBI data are available, close to the 10.2 percent in September 2013, the highest in a decade.
Restructured assets in the country's banking system will increase by as much as 1 trillion rupees by March 31, India Ratings & Research, the local unit of Fitch, said on Nov. 4. Restructuring a loan gives borrowers a moratorium on payments, longer maturities and lower interest rates.
"We may see a bigger pile of non-performing assets in the banking system by the end of the fiscal year because both the banks and ARCs have yet to see the rationale in the new rule," M S Raghavan, chairman and managing director, IDBI Bank Ltd. said in a Nov. 14 telephone interview. "They will take time to adjust."
India's economic growth cooled off to less than 5 percent in the past two fiscal years, underscoring challenges before the banks to boost lending and cut soured debt. A survey of 38 economists by Bloomberg estimates that the economy will expand at a faster pace in the next two years, signaling a brighter outlook for the lenders.
'Behind Us'
"The worst of the bad loan situation is behind us and we are going to see economic growth gradually picking up," said A. Balasubramanian, who oversees $16.7 billion in assets as chief executive officer at Birla Sun Life Asset Management Co. "From a quarter or two, there will be a sustained improvement in credit quality. The question is not if, but when."
Arcil estimates that the average price of a loan sold to ARCs in the year ending March 31 was about 72 percent of the outstanding principal. The price has to come down to at least 50 percent, Rudran said. It is likely to take at least two quarters for this adjustment to happen, he said.
India's efforts to clean up the banking system have had some early success. Non-performing debt as a proportion of total advances fell to 4 percent as of March 31 from 4.2 percent in September 2013, which was the highest since 2005-2006, according to the latest RBI figures.
The S&P BSE Bankex Index, gauge of 12 bank shares, has surged 60 percent this year compared with a 35 percent gain in the benchmark S&P BSE Sensex Index.
"If the current scenario continues, non-performing assets on the banks' book will keep piling up," Rudran said. "Lenders that are short of capital to comply with Basel III norms will have to slow down lending and the economy itself will suffer."
Before it's here, it's on the Bloomberg Terminal.
LEARN MORE