politics
The Aftermath of the University of Virginia Rape Story
The responses to the latest rape case at UVA have come from students, faculty, administrators and politicians.
By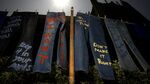 The University of Virginia is suspending all fraternities until Jan. 9 while it investigates allegations made in a recent Rolling Stone article about the school's sexual assault problem.
"In the intervening period we will assemble groups of students, faculty, alumni, and other concerned parties to discuss our next steps in preventing sexual assault and sexual violence on Grounds," Teresa A. Sullivan, the university president, wrote in a letter to students. On Tuesday the school's board of visitors will meet to discuss the university's sexual assault policies as well as the allegations in the Rolling Stone piece.
The article focuses on Jackie, who was a first-year at UVA when she was brutally raped by seven men at a Phi Kappa Psi fraternity party. After reporting the assault to the school, Jackie said she experienced the same lack of support and unwillingness to hold people accountable from the administration that has become a focal point of the campus sexual assault crisis.
According to the article, Jackie is one of a many students whose accusations weren't pursued by the university. In the wake of the story, students, faculty, politicians, and now the administration have responded with calls for various policy changes. Here's a rundown of the responses.
UVA Students
Students and alumni of the university have written in to Rolling Stone to say that Jackie's experience echoed their own.
On campus students organized a "SlutWalk" on Friday. Second-year student Defne Celikoyr organized the walk after reading the article. "I think we've reached the point where people are ready to take steps," Celikoyar told WTVR. "People are coming together to act up against it. We want to change it. We do not want to live like this anymore."
The walk ended in front of the Phi Kappa Psi fraternity, which has been vandalized since the article appeared. In an anonymous letter, students claimed responsibility for writing "UVA Center for Rape Studies" and "SUSPEND US!" on the front of the property, and demanded that expulsion become the only acceptable punishment for rape and sexual assault, reported The Cavalier Daily.   
"This situation is just beginning," the letter read. "We will escalate and we will provoke until justice is achieved for the countless victims of rampant sexual violence at this University and around the nation."
Governor Terry McAuliffe
In a statement released Thursday McAuliffe said he was "deeply disturbed" to read the account, and that he'd asked university officials to "conduct a full review of all their policies and procedures and if decided, to bring in outside experts to assist in this effort."
In response to that directive the university brought on former federal judge Mark Filip to serve as independent council in UVA's review. However, Virginia Attorney General Mark Herring announced that Filip would not be on the case because he was once a member of Phi Kappa Psi, the fraternity where Jackie's assault took place, though at a different chapter.
"This situation is too serious to allow anything to undermine the confidence in the objectiveness and independence of this review," Herring said in a statement.
Phi Kappa Psi
The UVA chapter of the fraternity released a statement Thursday announcing that it was suspending all activity during the investigation. "We remain ready and willing to assist with the fair and swift pursuit of justice, wherever that may lead, and steadfast in our resolve to ensure that nothing like this can happen, ever on our Grounds," the statement read. 
Virginia Senator Mark Warner 
Warner also released a statement Thursday, calling the account horrific, urging an investigation, and promoting his work a bill that would, he argued, improve reporting and transparency at universities. 
Since introducing this legislation, I have traveled the Commonwealth and met with numerous college and university officials to discuss the issue and press for real reforms. Across the Commonwealth and across the country, we must end a culture that tolerates campus sexual assault.
Virginia Senator Tim Kaine
Kaine released a similar statement on Friday. 
The allegations of sexual assault depicted in a recent Rolling Stone article are beyond alarming and cannot be tolerated. If the law enforcement and school investigations into these allegations are found to be true, the individuals and organizations involved should be prosecuted to the fullest extent of the law.
Kaine's statement followed a Thursday interview with Slate, during which Kaine declined to say whether the fraternity should be kicked off campus if the allegations are true.
"I wouldn't want to say—I don't want to make the comment about it, because I don't know what the rules are on campus," he said. "But I just know I read articles about fraternities being suspended and kicked off all the time. You gotta dig into it and find out, is it true?"
UVA President Teresa A. Sullivan
On Wednesday Sullivan announced that the Charlottesville Police Department will formally investigate the incident and the university will cooperate.
The school also posted it's new sexual misconduct policy, which it had been working on for several months, for review. The proposed changes include information on stalking, an online option for reporting misconduct, and add that complicity "knowingly aids, facilitates, promotes or encourages another person to commit any other form of conduct prohibited." 
Faculty
Sullivan's response wasn't enough for UVA faculty members, who urged the school to freeze any organizations being investigated for sexual misconduct. Associate Professor of Public Policy and Politics Christine Mahoney wrote the following letter, via Slate:
Dear President Sullivan,

We are all heartbroken and enraged after reading Wednesday's article in Rolling Stone. The extreme violence that was reported is shocking and demands an unequivocal response that we will not tolerate violence against our students.

U.Va faculty, staff, and students have been debating how we might most effectively respond.

As an initial step, we propose a policy that institutes an immediate freeze on activities by any student organizations that are currently under investigation for sexual misconduct and sexual assault.

Further, we call on the Greek System to collectively and voluntarily suspend activities this weekend in light of recent events and out of respect for the survivors of sexual violence on our campus.

We believe this immediate action will be an important first step in sending the message that violence against our students will not be tolerated.  It will also send a clear message to fraternities, that if they stand by and fail to intervene in sexual violence, or if they knowingly do not report sexual violence, the activities of their fraternity will be suspended.

We demand seeing this important response implemented,

[Begin Petition]
Faculty members have also planned a "Take Back the Party" event Saturday to "protest a social culture that puts out female students at unacceptable risk."
Before it's here, it's on the Bloomberg Terminal.
LEARN MORE