President Obama Remembers Marion Barry
The president recalled a "storied, at times tumultuous life and career."
By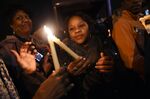 Marion Barry, the former polarizing mayor of Washington, died at the age of 78 on Sunday. Soon after, the White House released this remembrance from President Obama:  
"Michelle and I were saddened to hear of the passing of Marion Barry. Marion was born a sharecropper's son, came of age during the Civil Rights movement, and became a fixture in D.C. politics for decades," Obama said in an emailed statement. "As a leader with the Student Nonviolent Coordinating Committee, Marion helped advance the cause of civil rights for all. During his decades in elected office in D.C., he put in place historic programs to lift working people out of poverty, expand opportunity, and begin to make real the promise of home rule. Through a storied, at times tumultuous life and career, he earned the love and respect of countless Washingtonians, and Michelle and I extend our deepest sympathies to Marion's family, friends and constituents today."
While there is no indication that the two men were close—past scandals likely put the former mayor on many politicians' "avoid list"—Barry has been a supporter of President Obama from the beginning.
In 2008, he endorsed Obama over Hillary Clinton in the Democratic primary, calling the then-senator from Illinois "a new direction" and a "breath of fresh air," according to the Washington Post.  
An incident involving Barry, his girlfriend and sexually explicit accusations at the 2008 Democratic convention nearly cost him a chance to return to Obama's nominating convention four years later. 
But arguing that he gave the party's nomination speech for Jesse Jackson in 1984, Barry insisted in 2012 that he deserved to be at the gathering because Obama was "walking on Jackson's shoulders," he told the Washington Post. In the end, he was elected as a delegate for D.C. in 2012, despite concerns that he would be a distraction for the party, keeping alive the tradition of attending almost every Democratic convention for the past four decades. 
Barry had barely walked through the door of the Charlotte venue when he was asked by a reporter about Obama's reputation in the African American community. "We have some doubts about whether he's done enough," he told BuzzFeed. "But we're going to come out in large numbers. We have no choice—the choices are stay home or vote for Romney. And we're not taking any of those choices so we're going to be coming out … enthusiastic for President Obama."