Home Veggies Oust Foreign Produce at Carrefour's French Stores
Angeline Benoit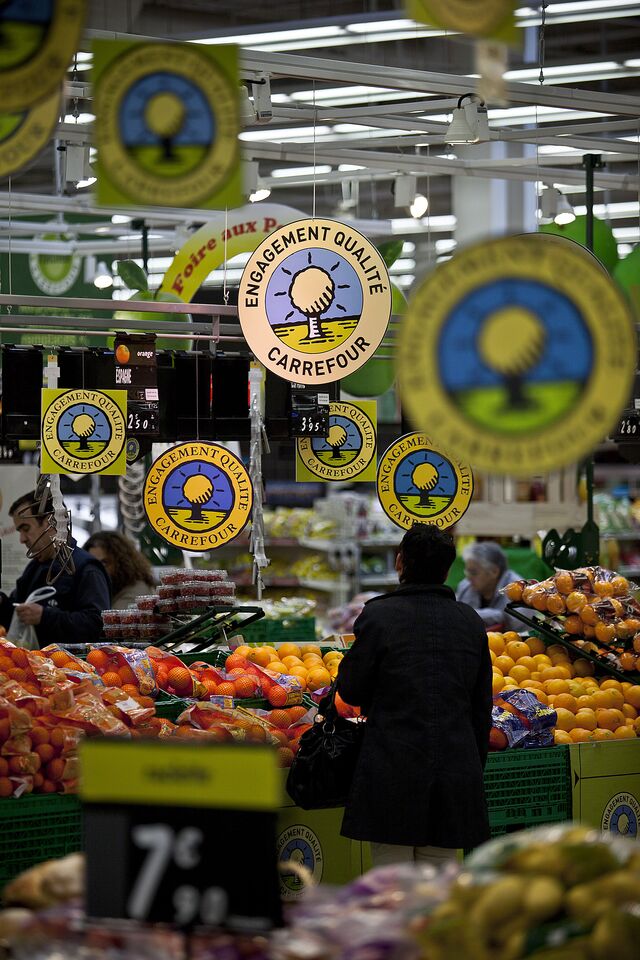 It's not a ban on imported vegetables, although it might just as well be.
French farmers have convinced the country's largest retailer to replace vegetables from outside France with those grown at home. Carrefour SA this month suspended vegetables it imports from Belgium, the Netherlands or Germany to sell locally grown potatoes, carrots and onions.
Local vegetables will be favored at Carrefour for at least 10 months in the supermarket chain's 1,200 French stores. The company, based near Paris, said Nov. 14 it has decided to stop selling foreign produce when local seasonal fare is available to bolster French farmers suffering from weak demand, inclement weather and an embargo from Russia.
"Farmers will be overjoyed to find buyers, whatever the price," said Bertrand Rival, director of the vegetable growers association Legumes de France. "The measure will bring them relief after a very difficult summer, when a bountiful harvest found few takers, between Russia's embargo and households put off fresh produce by cold and rainy weather."
The effort comes as tensions mount in the farming community of Europe's largest agricultural producer amid falling prices and cheaper imports. Prices have tumbled following a glut after Russian leader Vladimir Putin's government in August banned many food imports from nations supporting sanctions because of the country's annexation of Crimea and incursions into Ukraine.
French vegetable product prices were down 7.4 percent from a year ago in September, data published by the French statistics office show.
Flaring Tempers
Carrefour's commitment is to buy 100 percent of the six main winter vegetables in France, said Jean Vepierre, the company's director for fruits and vegetables. The share will be at least 90 percent for greens such as salads, in case adverse weather requires extra sourcing.
Carrefour hasn't had to cancel contracts with foreign producers as it doesn't have fixed purchase accords, Vepierre said. Its commitment will extend to the next two seasons with an updated list of vegetables that'll include the most-consumed ones, such as tomatoes, he said. While France is the only country in which Carrefour has signed such an agreement, it said it seeks to support local farmers in all markets.
Tempers have flared in the French farming industry. Financial woes led to vegetable producers burning down a tax office in the northwestern region of Brittany in September. Peach producers emptied trucks full of Spanish fruit in July close to the border.
Powerful Lobby
Farmer protests are not new to France.
In 2009, a slump in agricultural prices pushed dairy workers to pour milk in front of Mont Saint Michel while cereal producers dumped straw and burned tires on Paris's most famous avenue, Champs-Elysees.
Although the agricultural, fisheries and forestry sector makes up 1.7 percent of the economy, French attachment to "la terre," or the soil, makes it a powerful lobby in the country.
Legumes de France says it's trying to convince more retailers to follow in the footsteps of Carrefour. The French wholesale unit of Germany's Metro AG signed a similar agreement chaperoned by the French Agriculture Ministry as early as 2010.
Two thirds of fruits and vegetables and most winter products sold by France's closely held retailer Auchan are bought from local producers, the company said in an e-mailed response to questions. While Auchan regularly advertises local produce and proposes special offers on French fruit and vegetables when farmers need help, imports enable it to offer cheap products in line with competitors, it said.
Autumn, Spring
The European Commission declined to comment on what it said were private operators' decisions on sourcing.
As the autumn season comes to a close in Europe, Carrefour has stopped buying carrots, turnips and potatoes from northern European countries. Come spring, it may be the turn of southern neighbors including Spain to the bear the brunt of the decision, with French strawberries, squash or tomatoes that leave fields and greenhouses likely to be given priority.
Carrefour's plan also reflects a global trend toward local sourcing that is seen as more environmentally friendly and comes as consumers become more health conscious.
"While Carrefour is unlikely to do anything that could contravene its interests, this does mean that it considers that consumers care about where products come from," said Christophe Gouel, an economist at France's agronomy institute INRA.
Before it's here, it's on the Bloomberg Terminal.
LEARN MORE