Suicide Bomber Kills 57 at Afghanistan Volleyball Tournament
Eltaf Najafizada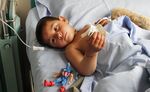 Fifty-seven people died as a suicide bomber blew himself up near a crowd at a volleyball tournament in Afghanistan, this year's deadliest attack in the country.
Forty-two people were killed on site and fifteen others died from wounds in the hospitals after the bomber detonated his explosives yesterday in Paktika province bordering Pakistan, Mokhlis Afghan, a spokesman for the province, said in an a phone interview today. More than 55 others were wounded, he said.
The attack came several hours after the Afghan parliament unanimously approved pacts that will keep U.S. and NATO troops in the country beyond this year. The nation's spy agency placed the blame on the Haqqani network, an ally of the Afghan Taliban who oppose the security agreements and have vowed to escalate attacks in the country.
Afghan President Mohammad Ashraf Ghani condemned the attack, according to an e-mailed statement from his press office. He called it a "non-Islamic, non-human act, which is not justifiable."
The bomber targeted a large crowd at about 5 p.m. local time. The dead and wounded included village elders, adults and children, according to an e-mailed statement form the country's Interior Ministry.
Deadliest Year
The Haqqani terrorist network was behind the blast, the National Directorate of Security wrote on its Twitter account. The Afghan and Pakistani insurgent group has also been accused of high-profile deadly attacks in the war-torn country, including the 2011 20-hour siege on the U.S. embassy in Kabul.
As U.S.-led troops begin to leave the country, 2014 has been the deadliest year for civilians, according to a report by the United Nations Assistance Mission in Afghanistan. Forty-two people died on July 15 when a bomb exploded in a crowded market in the same province.
About 5,000 Afghans were killed and wounded in the first half of 2014, up 24 percent compared with the same period in 2013, according to UNAMA's report. About three-quarters of the casualties were blamed on the Taliban and other militants.
Before it's here, it's on the Bloomberg Terminal.
LEARN MORE