What Cecily Strong Can Teach Congress
Looking forward to the day that a great female comic has a chance to make a serious point.
By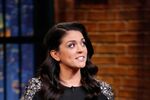 The White House Correspondents' Association dinner is a glitzy and peculiar occasion each spring, where the politics and prose set gathers to pull back how chummy they all really are. It was a boys club—not figuratively—until 1962, when the reporter Helen Thomas cried foul straight up to President John F. Kennedy. Kennedy vowed that he would not attend the dinners until they became open to women, and so they did. (Thomas became the first woman elected to be an officer at the WHCA, and the first to serve as its president.) Over the dinner's 82 years, only three women have headlined: the first solo female host was Paula Poundstone, in 1992. In his remarks that evening, George H.W. Bush recounted his introduction to Poundstone: "I said to her, 'How are you?' She immediately turned to me and said, 'Stop being political.'" Laughter. In 1993, there was Elayne Boosler; in 2009, Wanda Sykes. Cecily Strong will be the fourth.