U.K. Government Analyzing Latest Islamic State Hostage Video
Namitha Jagadeesh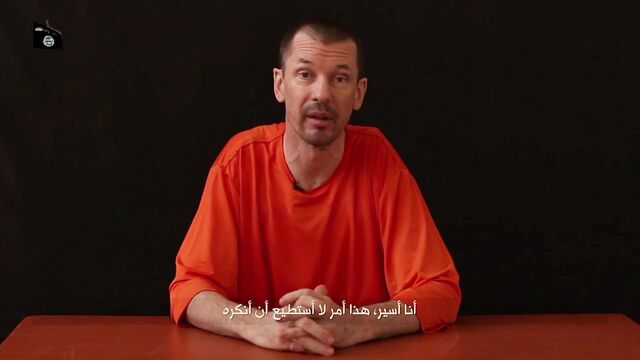 The U.K. government is studying a video released by Islamic State purporting to show British hostage John Cantlie describing a failed rescue attempt by U.S. forces.
In a nine-minute film, the 43-year-old photojournalist claims a rescue effort in July failed because the hostages had been moved to a different location, the British Broadcasting Corp. reported today. Cantlie, held captive since 2012, has previously appeared in videos posted by Islamic State criticizing the policy of the U.S. and its allies in the Middle East.
"We're aware of a further video and we're analyzing its contents," a Foreign Office spokesman in London said in a statement by phone.
Cantlie says in the video that he accepted "long ago" that his fate is likely to be the same as his "cell mates," the BBC reported.
Islamic State said earlier this month it had beheaded Peter "Abdul-Rahman" Kassig, an American Muslim convert and aid worker. Previous videos have shown the executions of British hostages David Haines and Alan Henning, and U.S. journalists James Foley and Steven Sotloff.
In September, Britain joined the U.S.-led coalition of European and Arab allies in carrying out military strikes against Islamic State positions in Iraq and Syria.
Before it's here, it's on the Bloomberg Terminal.
LEARN MORE