Rita Saverino, Deutsche Bank Manager, Dies of Sarcoma at 49
Stephen Miller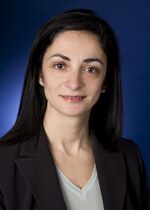 Rita Saverino-Romeo, a former managing director at Deutsche Bank AG in New York who used her personal struggle with sarcoma to raise awareness about the rare form of cancer, has died. She was 49.
She died on Nov. 20 at Lenox Hill Hospital in Manhattan of complications from recurrence of the disease, her husband, Joseph Romeo, said in a telephone interview.
Saverino, as she was known professionally, worked almost three decades on Wall Street at Deutsche Bank and Citibank, a predecessor of Citigroup Inc. She ran foreign-currency trading desks at both banks, Romeo said.
She was told in 2010 that she had sarcoma, which accounts for only 1 percent of all adult cancers, according to the Sarcoma Foundation of America Inc. website. The disease develops in tissue structures such as nerves, muscles, joints, bones and blood vessels.
Her medical odyssey was the subject of a 2012 episode on ABC's "NY Med," a television series that showed the treatment of real patients at hospitals in the New York metropolitan area.
Saverino said she was stunned by the diagnosis because her main symptom was only a persistent sore back.
"I immediately thought about my children," she said in a Sarcoma Foundation fundraising video, referring to her two young sons.
Surgeon Search
About 12,000 sarcoma cases are diagnosed annually in the U.S., according to the foundation, whose mission includes advocating increased research for better treatment therapies and support for patients.
After consulting seven surgeons who refused to operate because of the dangers, the couple found a physician who said the procedure was "difficult, but possible."
Saverino described her emotions in a statement on the foundation's website:
"If he can do possible, I will do difficult," she wrote. "Cancer was something that happened to other people until it happened to me. There is no good cancer, but when you are told you have a rare cancer, not only is your life turned upside down, but it seems that doctors forget to tell you about hope. And hope is exactly what is needed at this most challenging time."
Lengthy Surgery
The operation was on May 4, 2011.
The episode of "NY Med" described Saverino's 18-hour surgery to temporarily remove internal organs in order to excise a large tumor lodged behind her liver. After several additional operations, the efforts appeared successful, Romeo said.
Saverino joined the Sarcoma Foundation's board and played a key role in its fundraising activities.
"She was a real energetic person with a lot of ideas and added dynamic thinking about maximizing fundraising," Mark Thornton, the organization's co-founder and president, said on Nov. 21 in a telephone interview. "We call sarcoma an orphan cancer because it is the forgotten cancer. It is not so profitable for pharmaceutical companies to pursue cures."
Rita Saverino was born on Dec. 15, 1964, in Reggio di Calabria, Italy, to Rosa and Salvatore Saverino, Romeo said. They emigrated to the U.S. when she was 3 years old, living with relatives in the Bensonhurst section of Brooklyn, where her father found construction work.
The first in her family to enter college, Saverino attended Baruch College of the City University of New York before transferring to Columbia University.
'A Lark'
Her career path began almost by accident. While still at Columbia, "she applied with some girlfriends on a lark for a secretarial job" at Citibank, Romeo said. Her fluency in Italian qualified her for the position, within the bank's foreign exchange unit. "That's how she got into trading."
In 1982, Saverino started working fulltime at Citibank, according to her profile on the LinkedIn website. She studied nights and weekends to earn her degree.
Her responsibilities increased at the bank, where she became a vice president, managing a team of foreign-currency traders.
"For someone who weighed just 105 pounds, she commanded a lot of respect," Romeo said.
By 1994, she had joined Deutsche Bank, where she managed the foreign-exchange spot trading desk.
Develops Products
Saverino later helped develop electronic trading products, Amanda Williams, a spokeswoman for Deutsche Bank in New York, said Nov. 21 in a telephone interview. By the time her medical condition forced her to stop working, she was managing director in the bank's markets division and co-head of FX4Cash, an automated cross-border payment program for financial institutions.
About a year after her initial operation, Saverino learned that the sarcoma had metastasized, Romeo said. She continued her fundraising efforts for the foundation while spending time with her family.
"We had some great times after the surgery," Romeo said. "I coached baseball and she would be at every game. We were fortunate to have had the four years we had."
In addition to her husband, survivors include sons Luca Vincent Romeo, 15, and Matthew Thomas Romeo, 11; her parents; and brothers Armando, Mario and Alfredo.
Before it's here, it's on the Bloomberg Terminal.
LEARN MORE