In Iowa, Ben Carson Says He's Edging Closer to 2016 Run
The Republican tells Bloomberg Politics he sees no need to formally declare himself a candidate anytime soon.
By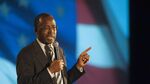 Ben Carson said Saturday he's getting closer to making a decision to run for the 2016 Republican presidential nomination and is spending time studying foreign policy and building a network of "people in critical positions" waiting to launch a campaign.
In an interview in Iowa with Bloomberg Politics, the retired neurosurgeon declined to provide specifics about building a real infrastructure that could support a national campaign, except to say that the network includes fundraisers "coast to coast who are ready the minute I declare to bring in funds."
He said he sees no need to formally declare himself a candidate anytime soon: "I don't really see any reason to rush it. You want to be quite sure that it is the right thing to do."
"Many people will be quite shocked" to see how he's sharpening up on policy "because they think doctors only know medicine," he added.
Carson, 63, sat for an interview inside a Holiday Inn suite in Des Moines, just ahead of his keynote speech at a "Celebrate the Family" fundraising dinner for the Family Leader, an Iowa-based coalition that opposes abortion rights and gay marriage. He discussed issues ranging from the immigration debate dominating Washington to President Barack Obama's legacy as the country's first black president.
Immigration Incentives
Speaking days after Obama announced plans to take executive action to relieve 4 million to 5 million undocumented immigrants of the threat of deportation, Carson said the immigrants should lose access to services such as "free" education, medical care and housing subsidies until they become citizens.
"You have to reverse the polarity of the magnet that is attracting people here," he said "All the goodies, you just turn those off. Then, you seal the border."
Carson said government aid should require proof of citizenship and called for a "guest worker program" similar to Canada's, with certain tax requirements.
"In terms of work, you have to be realistic enough to recognize that certain parts of our economy would probably collapse without a lot of people who perhaps are not here legally," he said. "We need to create a mechanism for them to be here legally. That's not the same as giving them citizenship and voting rights."
To obtain guest-worker status, Carson said workers from outside the U.S. should be required to apply for such status from outside the country.
"In other words, you don't get a free pass because you are here already," he said. "It really is quite unfair when you provide advantages to people who don't play by the rules."
Asked whether he supported or opposed Obama's immigration plan, Carson hedged a bit and said he doesn't "support the way that it is being done" because the president should have been more deferential to Congress. How prospective Republican presidential candidates address the immigration debate is likely to become a point of differentiation in the still-emerging field.
On another governance issue, spending, Carson offered a somewhat softer statement than he has in the past about the need for a 10 percent across-the-board cut in federal spending, including defense and medical research.
"I think it needs to be cut proportionately, whether 10 percent is the correct number, I'm not certain," he said, adding that he would like to see the size of the federal workforce reduced through attrition over the course of four or five years.
"I defy anybody to show me any government program that is run without fat," including medical research, he said. "There is nothing that is run efficiently, nothing."
Rise to Stardom
Carson, a retired physician at Johns Hopkins Medical Institutions, has become a favorite of the political right as he weighs a presidential run. He's dazzled conservatives who love his life story of being a poor child from Detroit who rose to be one of the world's top pediatric neurosurgeons.
His emergence onto the national political stage was boosted by a sharp critique in 2013 of the Affordable Care Act that he made at the National Prayer Breakfast in Washington, in front of Obama.
"I personally thought that the furor would kind of die down pretty quickly and I would go back to a normal life, but that does not appear to be the case," Carson said in the interview, adding that he suspects he will make his decision about running "in the spring."
In Iowa, Carson sits behind only 2012 Republican nominee Mitt Romney, who has said he doesn't plan to make a third bid for the White House, as the first choice of likely Republican caucusgoers, according to a Bloomberg Politics/Des Moines Register Iowa Poll taken in October. He was picked by 11 percent, one point ahead of Senator Rand Paul of Kentucky.
If Carson were to find traction in the presidential campaign, it would be a rarity. In recent history, the United States has only once elected someone with no electoral experience: Dwight D. Eisenhower.
"Perhaps that's just the experience you don't need if you want to get things back to the point of the founding fathers," Carson said, adding that he has "real-world experience" in health care and business.
Assessing black outreach, Obama's legacy
His party has done a "poor job" of trying to win over black voters, Carson said, though he applauded efforts to change that.
"A lot of black people actually are conservatives and actually do identify with more conservative values, but what has happened that it has become so unpopular to be identified as such that people would prefer just to go along to get along with everybody else," he said. "The Republican Party, in particular, has to come out with real programs that show that they are willing to invest in their fellow citizens with the return being moving people out of dependency."
Carson said the party needs to "talk about the difference between enabling someone to become independent and enabling someone to become dependent" and "the facts," such as the high rate of African American babies born to unmarried parents.
If he runs and were to win his party's nomination, Carson said, he would "hope" to draw more black voters than typical for a Republican. In the 2014 midterms, Democrats won 89 percent of the black vote nationally.
"I do get a chuckle sometimes when I read various comments and people say there will never be another black president because of Obama," he said, noting the president's low approval ratings. "And I say, well, Obama's half white. Does that mean there will never be another white one, either?"