Harvard Tops Yale in 'The Game' for Ivy League Title
Erik Matuszewski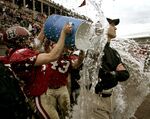 Harvard University won the Ivy League title by beating Yale 31-24 in the 131st playing of a college football rivalry known simply as "The Game."
Harvard (10-0) concluded its 17th undefeated season as senior quarterback Conner Hempel threw a 35-yard touchdown pass to Andrew Fischer with 55 seconds left to snap a 24-24 tie.
Harvard's winning drive came after Yale scored 17 straight fourth-quarter points to erase a 24-7 deficit in Cambridge, Massachusetts, where the game yesterday was televised by NBC Sports Network and ESPN set up its "College GameDay" pregame program for just a second time at an Ivy League campus.
"One of the greatest games I've ever seen," said Harvard coach Tim Murphy, who has been at the school since 1994 and also led the team to unbeaten seasons in 2001 and 2004. "So happy for our seniors. So proud of our players and coaches. Great day for Harvard football."
Yale, which could have earned a share of the league title with a victory, finishes 8-2. The Bulldogs reached Harvard's 26-yard line with 20 seconds left, but quarterback Morgan Roberts was sacked for a six-yard loss and then was intercepted by Scott Peters at the 15-yard line as the Crimson sealed a record eighth consecutive victory in the series.
"We've been very fortunate, we've had a great run," said Murphy, whose team has won 14 consecutive games overall, the second-longest run in Division I behind Florida State (27). "It's getting harder, not easier, but we'll take this one."
Title Rivals
The matchup marked the 27th time the rivals played for at least a portion of the Ivy League title. Harvard improved to 15-11-1 in those games.
Fischer, a junior receiver from Diamond Bar, California, finished with 264 all-purpose yards for Harvard. He had 149 receiving yards and two scores along with 79 rushing yards and another 36 on kick and punt returns.
Harvard was one of four undefeated Division I football teams entering the weekend, along with Marshall, Coastal Carolina and defending national champion Florida State. Harvard and top-ranked Coastal Carolina both play in the second-tier Football Championship Subdivision.
Fewest Points
Harvard has won 13 of the past 14 games against Yale, yet still trails 65-58-8 in the overall series. Since the schools joined the Ivy League, the Crimson hold a 34-24-1 advantage.
Harvard entered "The Game" having allowed the fewest points in the Ivy League and the FCS -- an average of just 11 points per game -- while Yale featured the top-scoring offense in the conference at 43 points per game.
Tyler Varga scored three touchdowns for Yale, which led 7-3 at halftime before giving up 21 third-quarter points. Varga scored twice in the fourth quarter during Yale's comeback and the Bulldogs got a tying field goal after recovering a fumble in Harvard territory with 7 minutes and 41 seconds left.
The Crimson then drove 78 yards in eight plays for the winning score, setting off a celebration at Harvard Stadium.
Before it's here, it's on the Bloomberg Terminal.
LEARN MORE