Ben Carson's Fans Await Him in Iowa
Supporters of the potential 2016 candidate say they have one of the strongest Republican networks in the state.
By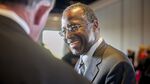 As he prepares for a possible White House run, Ben Carson's supporters have quietly assembled one of the most formidable Republican political organizations in Iowa, the state that will launch the presidential nomination process with its caucuses in early 2016.
The National Draft Ben Carson for President Committee says it has more than 130 leaders covering all 99 counties in Iowa, a metric no other likely Republican contender can match at this point.  Many of them will be on hand Saturday, when Carson is scheduled to speak at the "Celebrate the Family" fundraising dinner in Des Moines for the Family Leader, an Iowa-based coalition that opposes abortion rights and gay marriage. 
For months, Carson's followers have shown up at virtually every high-profile Republican event in Iowa with recruiting materials and a life-sized cardboard cutout of the retired neurosurgeon.
"If he does run, he will be a force to contend with in the Iowa caucuses," said Will Rogers, chairman of the Republican Party in Iowa's largest county, Polk. "Anyone who would underestimate him or the people around him, do at their own peril. He's going to be a real force to compete with and he's going to excite a lot of new people."
The Carson effort is "probably the second-most organized group in the state," Rogers said, behind the "liberty movement" rallying behind Senator Rand Paul of Kentucky. Whether it can build on that is another question.
Long-shot candidates often are the focus of early enthusiasm, and one longtime observer of the Iowa caucuses compares the excitement surrounding Carson to the 2012 support for Herman Cain, a buoyant business executive who briefly shot to the top of the polls before sexual harassment allegations against him went public, effectively choking his campaign.
"Every presidential campaign has boomlets and passing fads–remember President Cain? This is another," said Doug Gross, a Des Moines lawyer and Republican activist who was once chief of staff to Iowa Governor Terry Branstad. "The country will want and needs someone with experience to effectively lead our nation in a troubled world."
In an interview published Saturday with the Des Moines Register, Carson said he's not intimidated by prognostications that he is a long-shot. "The way I have kind of looked at it is it's the same thing with some of the so-called inoperable brain tumors. Everything's impossible until to you do it. And then it's possible," he said. "So you don't necessarily let that stop you."
In early Iowa polling, Carson sits behind only 2012 Republican nominee Mitt Romney, who has repeatedly said he doesn't plan to make a third bid for the White House, as the first choice of likely Republican caucus-goers, a Bloomberg Politics/Des Moines Register Iowa Poll taken in October showed. He was picked by 11 percent, a point ahead of Paul.
If he does run, Carson could find himself competing for social conservatives along with better known names, including former Arkansas Governor Mike Huckabee and former Senator Rick Santorum of Pennsylvania, both previous winners of the Iowa caucuses.
Before his Iowa trip, Carson used a Wednesday evening conference call to try to assure supporters that he's a strong supporter of the Second Amendment, an especially key issue in rural Iowa. Some skeptics have pointed to a 2013 comment he made to talk-show host Glenn Beck, who asked whether people have the right to own semi-automatic weapons; Carson said it depended on where they lived.
Carson has also built a national profile through regular appearances on conservative outlets. Earlier this month, Fox News cut its ties with him as a paid contributor ahead of the broadcasting of a documentary about him in select markets that was designed to introduce him to more Americans.
Fundraising on his behalf has been robust. USA First, a political action committee formed by Carson, raised about a quarter million dollars during the third quarter of 2014, Federal Election Commission records show.
The separate draft-Carson committee, meanwhile, has raised $11 million since August 2013, though it spent nearly all of it on salaries, fundraising expenses and other costs. It had $328,128 in the bank as of Oct. 15. By comparison, Ready for Hillary, the group promoting a possible Hillary Clinton campaign, has raised $10.2 million since January 2013 and had $788,301 in the bank.
The weekend trip to Iowa will be Carson's second high-profile appearance there in recent months. In August, he was the keynote speaker at a Polk County Republican event, a gathering Rogers said easily sold out. "We had people that we had never seen before who came to the event because they were excited about Dr. Carson," he said. "He was extremely well received."
A retired Johns Hopkins professor, Carson is perhaps best known professionally for operations separating conjoined twins. For more than a year, he's has been traveling the nation, making statements that for mainstream politicians could be damaging, including that he doesn't believe in evolution.
The doctor has also won a serious of straw polls in various states. The contests don't hold any real value, but they do show Carson's popularity among Republican activists.
"He is a natural leader," said State Representative Rob Taylor, a Republican from West Des Moines who co-chairs the draft committee in Iowa with his wife, Dr. Christi Taylor. "He has a presence that is calming, but passionate."
Taylor said he isn't certain that he would caucus for Carson if he does run, but he wants to see him enter the race.
"I'm trying to get good people to think about running for the presidency, and I think that he's good presidential material," he said. "We've got a lot of other great presidential candidates out there, too."
The draft movement in Iowa also has the backing of Rita King and Jon King, a longtime conservative activist who is the brother of U.S. Representative Steve King of Iowa.
Taylor said the draft effort plans to take a somewhat laid-back approach to the Carson appearance because it is another group's event. He said there will likely be a lot of people wearing "draft Carson" stickers.
On his gun rights conference call with supporters Wednesday evening, Carson said the primary process would allow him and other candidates to "clarify all those things" that might worry voters, and that his "true identity and the true feelings" would be revealed.
If he runs and gains traction, his opponents will make sure of that.
MORE ON BLOOMBERG POLITICS