Barack Obama Can Get a Little Done on a Lot of Things
Jonathan Allen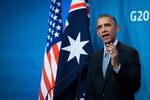 President Barack Obama can do a little bit about a lot of things, all by himself, in his final two years in office.
That means there's plenty of small print left after Obama signed sweeping immigration memorandums yesterday and recommitted to cutting carbon emissions earlier this month. The Transportation Department is proposing new regulations for hauling crude oil, the Environmental Protection Agency is expected to propose ozone standards next month and the Education Department is working on teacher-preparation rules. Obama's team can do it all without a vote in Congress.
"There's a lot of stuff that the president not only has the authority but the obligation to do that adds up collectively," said Carmel Martin, the executive vice president for policy at the Center for American Progress, a Washington research group once run by Obama's counselor to the president, John Podesta.
"The Constitution and the laws of the United States empower him and expect of him to implement the laws in the way that they make people's lives better," Martin said.
In the case of immigration, Obama has found more power than even the boldest advocates for his use of executive authority might have envisioned. A 2010 report by CAP, in effect a 47-page playbook for the exercise of executive power, recommended finding alternatives to the detention of undocumented immigrants while they awaited adjudication.
"With respect to the notion that I can just suspend deportations through executive order, that's just not the case," the president said in 2011. By the following year, when he was deep into a re-election campaign that relied on Hispanic voters as part of its coalition, Obama shielded from deportation many immigrants who were brought to the country illegally as children.
Now Obama has directed federal authorities to stop pursuing the deportation of up to 5 million undocumented immigrants and set up a system for them to obtain work permits.
While Obama argues that his immigration plan fits well within his legal power and presidential precedent, Republicans say it's an overreach. The Republican National Committee sent out a press release late Friday quoting Democrats, including Obama, making just that point.
The CAP report, entitled "The Power of the President," recommended dozens of possible actions on foreign and domestic policy, including the building blocks that Obama has used to force a reduction in greenhouse gas emissions.
Among CAP's suggestions: directing the Air Force to retrofit hangars with solar panels (which began last year); creating a presidential advisory panel to develop policies to tear down barriers to job creation and investment (a presidential jobs council was initiated in 2011); and requiring the federal government to use its leverage in the health-care market to pressure insurers to reward quality and efficiency.
Jennifer Friedman, a White House spokeswoman, declined to comment on potential future executive actions.
The presidential memorandum is just one tool at Obama's disposal. It is different, in name only, from an executive order. But it's much more immediate than the regulations that the administration uses to implement laws passed by Congress.
The regulatory process is much more complex than the straightforward policy directives Obama issued on immigration, and there are scores of rules making their way through federal agencies. Obama could also choose to accelerate regulations he wants to see on the books before he's out of office.
Because he's no longer a candidate for office, and because Republicans will control both the Senate and the House in the new year, Obama has shown he no longer considers himself as bound by concerns that unilateral action could erode support from Democrats or make it harder for him to work with Republicans. The final years of the presidencies of George W. Bush and Bill Clinton were much the same.
"The administration is not going to have the same concerns about alienating constituencies," Kate Eltrich, who worked in the Office of Management and Budget for Obama and Clinton, said of decisions to use White House authority. "They may just go ahead and make them because this is their chance."
In a foreword to the CAP report, Podesta broke the president's powers into six categories: executive orders, rule making, agency management, convening and creating public-private partnerships, commanding the armed forces, and diplomacy.
"The ability of President Obama to accomplish important change through these powers should not be underestimated," he wrote.
Before it's here, it's on the Bloomberg Terminal.
LEARN MORE