Yen 13-Year Bull-Run Fibonacci Stop Seen at 120: Market Reversal
Kevin Buckland and Hiroko Komiya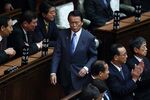 The yen's steepest drop in almost six years is set to stall at 120 per dollar, trading patterns suggest, which would be welcome news for Japanese officials bemoaning the pace of the currency's decline.
"We are looking for consolidation or a potential pullback at 120," James Lim, a Singapore-based analyst at Credit Suisse Group AG, said today by phone. "We're looking at 115.50. That's our pullback target. We look for this to hold before the continuation of the uptrend in dollar-yen."
The Swiss lender cited a gauge known as the Fibonacci indicator for its call. Japan's currency, which tumbled yesterday to a seven-year low of 118.98 per dollar, rebounded
0.3 percent today after Finance Minister Taro Aso said its slide over the past week has been "too fast," the strongest statement on the currency yet by a top official.
The yen accelerated its slide versus major peers after the Bank of Japan unexpectedly expanded its record stimulus program on Oct. 31 and Prime Minister Shinzo Abe called a snap election this week. It traded at 118.04 per dollar as of 11:50 a.m. in London.
Credit Suisse Group said 120 per dollar represents the
61.8 percent Fibonacci retracement of a 13-year bull run that took Japan's currency to a record-high of 75.35 in October 2011. Momentum gauges back the assertion that the yen is falling too fast, with a measure known as the moving-average convergence-divergence, or MACD, at the highest level since 1998.
The yen "could potentially go to 124, the 2007 high," Lim said.
Significant Number
Strategists say 120 is psychologically significant because it's a round number and represents a level where investors may try to cash out of bullish dollar-yen positions before re-entering the trade at cheaper levels.
"In terms of big-figure targets, after coming this far there's really only 120 left," Daisaku Ueno, the Tokyo-based chief currency strategist at Mitsubishi UFJ Morgan Stanley Securities Co., said today by phone. "It's likely the market will make a run at that level, but if it gets there, the chances of a correction are high."
A five-yen retracement would be "natural" after the approximately 10-yen move since the BOJ's surprise stimulus expansion, he said.
'Slam Dunk'
Charlie Chan, a former Credit Suisse Group AG proprietary trader who now runs his own hedge fund, is looking to get out of his position selling the yen, judging that the current rout is unlikely to extend to 125 as traders seek to take profits.
"It might break 120 yen but it won't be there for long," Singapore-based Chan, who worked at Credit Suisse for more than 25 years, said in a phone interview today. "If everybody thinks it's a slam dunk easy trade, then there will be profit-taking along the way."
The founder of Charlie Chan Capital Partners Pte said his Splendid Asia Macro Fund returned almost 20 percent this year as investments in currencies, bonds and stocks in Asia paid off.
The yen's 14-day relative-strength index versus the dollar was at 21 today, below the 30 level that may indicate the currency has weakened too much and is poised to rebound. The gauge has been in oversold territory since Oct. 31.
MACD Signals
The Japanese currency's MACD gauge also points to a potential reversal. The distance is narrowing between the measure, which calculates market moves against longer-term averages, and its so-called signal line. When the MACD dropped below the signal line earlier this year, the yen strengthened from a Jan. 2 low of 105.44 per dollar to above 101 in a month.
The currency tumbled 2.8 percent on Oct. 31 after the BOJ unexpectedly increased its annual target for enlarging the monetary base to 80 trillion yen ($680 billion), from 60 to 70 trillion yen previously. That was the biggest one-day decline since Governor Haruhiko Kuroda launched his quantitative-easing program on April 4, 2013.
Finance Minister Aso told a regular press conference in Tokyo today that it was "clear" the yen had weakened too fast against the dollar, while adding that "it's up to the market to set the currency rate and it's not something where we intervene."
"The market had become so overheated that, without Aso's comment, investors had no real target for how high to take the dollar-yen rate," Kengo Suzuki, the chief currency strategist at Mizuho Securities Co. in Tokyo, said by phone today.
While dollar-yen could still reach 120 in the near term, investors should now look for Japan's currency to strengthen, according to Suzuki.
"The higher the mountain, the greater the descent," he said. "A drop to around 115 yen is very possible."
Before it's here, it's on the Bloomberg Terminal.
LEARN MORE