What's Good for the Goose
When is a tax increase not really a tax increase?
By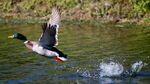 The warning came from Americans for Prosperity, part of the Koch political network, and it would have been ominous if it weren't so comical.
"Just weeks after voters repudiated the liberal agenda of high taxes and out of control spending, the scrooges in Congress want to ask American families for even more of their paycheck to help fund a bloated, oversized government that cannot properly do the few things it is supposed to be doing, never mind all of the things it is not supposed to be doing," it said.
The target? Not federal regulations and restrictions on business, among AFP's favorite objects of derision. Instead, the group's sights are focused on the most successful conservation program in U.S. history: the federal duck stamp program.
Duck stamps are annual permits used as proof that hunters have paid a nominal fee for the privilege of hunting migratory waterfowl such as geese and ducks. The U.S. Fish and Wildlife Service says that 98 cents of every dollar spent on duck stamps goes to protect wetlands and other habitat. Since they were first issued in 1934, the stamps have raised $800 million, used to buy or lease millions of acres. Ducks and duck hunters benefit, of course, but so does other wildlife, as well as hikers, photographers and bird watchers who visit federal refuges.
"When it comes to conservation, this program has no peer," said John Devney, vice president for U.S. policy for Delta Walterfowl, a duck conservation and duck hunting organization.
Why was AFP so alarmed? A bill moving through Congress would raise the price of a $15 duck stamp ... by $10.
That would raise about $120 million, according to the Congressional Budget Office, and lots of conservation groups support the measure, noting that the stamp's price has stayed constant since 1991 while land prices have gone up.
So let's make this clear: This is not a tax. It is a fee increase. If you are among the 314 million Americans who do not want to hunt ducks or geese in the U.S., you do not have to buy one. (But if you want to support wildlife, perhaps you should.)
Here is another bit of perspective: In the world of ducks, $10 is chicken feed. A typical duck hunter carries a shotgun worth several hundred dollars, if not a few thousand. Around his neck he dangles a string of calls and whistles designed to lure ducks and geese into range. Some can cost $20, others cost $200. 
Decoys—plastic replicas of ducks and geese—easily can cost $10 each, and many hunters have dozens. They might have a boat too, and a truck to haul it. 
Clothing? A $400 camouflage parka, a $200 pair of waders and a $20 cap are just a start. And in their pockets, hunters carry ammunition that can cost up to $4 a shell. At that rate, three missed shots are more expensive than the proposed increase.
AFP, in what it doubtless thought was delicious irony, pointed out that the duck-stamp increase is advancing in the "lame duck" session. But at least in this case, there's a significant question as to who are the birdbrains.