Washington D.C.'s Most Pro-Pot Precinct Includes White House
Initiative 71 won 70 percent support in the nation's capital on Nov. 4.
By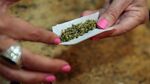 The most pro-pot of the 143 precincts in Washington D.C. includes the White House, and Capitol Hill voters aren't far behind.
Voters overwhelmingly approved a marijuana legalization initiative in Washington, D.C., earlier this month, voting in favor of it in all but one precinct. According to unofficial returns, the yes-on-Initiative 71 side won 70 percent citywide and received a (wait for it) high of 84 percent of the 318 votes cast in the White House precinct (number 2). That precinct also takes in the State Department's headquarters and the bulk of George Washington University's campus in the Foggy Bottom area. The White House is where the "2" is:

The second most pro-marijuana precinct, with 83.8 percent support, includes part of the U Street Corridor, birthplace of Duke Ellington and home to Ben's Chili Bowl, a family-run restaurant frequented by President Barack Obama that is just over the precinct boundary. The once thriving center of black culture and jazz declined after riots in the 1960s. It's now been thoroughly yuppified and is teeming with trendy restaurants and million-dollar condos:

Both precincts are in Ward 2, where the initiative won 75 percent support, second-best among the eight city wards. Capitol Hill, which is in Ward 6, gave the initiative 72 percent backing.
The only precinct where the pro-pot measure lost was this one in northwest DC's Ward 3 (number 9):

The precinct takes in the affluent Spring Valley neighborhood around American University that is populated by big name journalists and government officials. Presidents George H.W. Bush and Lyndon Johnson lived in the community before moving to the White House. In the mayoral election, the precinct voted decisively for David Catania, an independent and former Republican. He lost the race to Democrat Muriel Bowser, and they lost the pot vote, too.  
Click here for the election results and here for ward and precinct maps.