RBS Says It Overstated Capital Ratio in European Stress Test
Richard Partington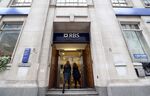 Royal Bank of Scotland Group Plc, Britain's biggest government-owned lender, said it overstated a key capital ratio in last month's European stress test, sending the stock briefly to a three-week low.
RBS's fully loaded common equity Tier 1 ratio, a measure of financial strength, should have been 5.7 percent in the adverse scenario used by the European Banking Authority instead of the
6.7 percent it reported on Oct. 26, the lender said in a statement today. The minimum pass mark was 5.5 percent.
"It's unhelpful, but it's not particularly relevant," said Joseph Dickerson, an analyst at Jefferies International Ltd. in London with a buy rating on the stock. "In the case of RBS, the EBA stress test is particularly backward looking. It uses December 31, 2013 balance sheet data."
The bank said it has boosted its Tier 1 ratio to 10.8 percent at Sept. 30 from 8.6 percent at the end of December, and has reduced it's sensitivity to stress losses by shrinking its bad bank and U.S. asset-backed products business. RBS said it remains "on target" to boost its capital ratio to 11 percent by the end of 2015.
The shares, which fell as much as 2.9 percent, closed down
0.8 percent at 377.7 pence in London trading. The stock has advanced almost 12 percent this year, the only gainer among Britain's five biggest lenders.
Calculations Reviewed
RBS said the stress-test modeling "did not adequately reflect" deferred tax asset deductions. "The result remains a pass under the most stressed scenario," the bank said in a statement. 'We are examining how this mistake was made, and will be working with our regulators as we do so.''
RBS is reviewing its calculations with its auditors, according to a person with knowledge of the matter who asked not to be identified because they weren't authorized to speak publicly. RBS said earlier this month it plans to replace Deloitte LLP as its external auditor with Ernst & Young LLP from the end of 2016. Officials at Deloitte didn't immediately return calls seeking comment.
The bank was one of 123 European lenders that were stress-tested by the EBA last month in an effort by the regulator to bolster investor confidence in the industry's financial health. Twenty-four lenders failed, and the Bank of England's Prudential Regulation Authority is preparing to release the result of its own stress test on British lenders next month.
"RBS has resubmitted its 2014 EU-wide stress test results following a recalculation of its common equity Tier 1 capital ratios," the EBA said in a statement on its website. An EBA spokeswoman declined to comment beyond the statement. The PRA also declined to comment.
Before it's here, it's on the Bloomberg Terminal.
LEARN MORE