Natixis to Exceed Asia Growth Target in 2014, Mignon Says
Joyce Koh and Fabio Benedetti-Valentini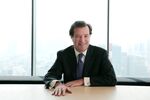 Natixis SA is on course to beat its Asia growth target this year after increasing headcount to win business from the region's institutional investors.
Natixis, controlled by Groupe BPCE, France's second-biggest lender by branches, expects revenue in the region to rise more than 20 percent this year, topping a target of 15 percent for the region, Chief Executive Officer Laurent Mignon said in an interview in Singapore yesterday. The Paris-based bank's headcount in Asia will have increased 8 percent this year.
"We can do much more with our Asian clients," said Mignon, who is on a weeklong tour of Asia. "We've got to develop our relationships with the big Asian institutions because they have a lot of cash, they're looking to invest, they're looking for yield."
Natixis is targeting annual revenue growth of about 15 percent on average in Asia through 2017. The bank said last November it wanted to reinforce its Asian trade finance business, as well as develop or improve businesses such as energy and commodity financing, fixed income and equity derivatives.
The company is seeking to deepen its capital markets activities with financial institutions in Japan, Taiwan and Korea, Mignon said. The lender is also targeting businesses in China, Hong Kong, Southeast Asia and Australia to offer financing services in infrastructure, aviation, energy and commodities.
Hiring Spree
Natixis aims to double its corporate and investment banking revenue in Asia by 2017, increasing the region's share of total revenue to 10 percent from 7 percent now, he said.
In the asset management unit in Asia, which oversees more than $30 billion, the company plans to increase employees by 15 percent next year from the current 40, Herve Guinamant, Natixis' president for international distribution, said in an interview in Hong Kong Nov. 18. Natixis will hire people in legal, marketing and compliance in Hong Kong and Japan, Guinamant said.
The company plans to use about 1.5 billion euros ($1.9 billion) for asset management acquisitions through 2017 to expand in regions including Europe and emerging countries, it said last year.
"What we are looking for is to add expertise or distribution capability," Mignon said. "We're very sensitive to the price, so we want to make sure that whatever we do, we have the ability to make the appropriate return on it."
Natixis, which had the biggest net losses of any French bank following the September 2008 collapse of Lehman Brothers Holdings Inc., has been profitable every quarter since mid-2009. It said this month that its third quarter profit rose 10 percent to 281 million euros, helped by higher asset management and insurance revenue.
Before it's here, it's on the Bloomberg Terminal.
LEARN MORE