Smuggled Giraffes and Illicit Ivory: Interpol's Nine Most Wanted Environmental Criminals
By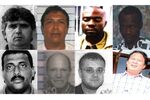 Interpol has launched its first Most Wanted list for environmental criminals. The international policing agency is targeting nine fugitives for evading charges that include illegal discharge of toxic waste, illegal logging, ivory smuggling, and trafficking live animals.
"Until recently, environmental offences were not even considered a crime by many countries, but as the years have passed, they have realized that environmental crime is a serious internal threat to our societies," Andreas Andreou, a criminal intelligence officer with Interpol's environmental security unit, told the Guardian earlier this week. Many environmental criminals, he adds, are tied up with organized crime rings.
Transnational organized environmental crime is estimated to be worth $70 billion to $213 billion annually, according to a 2014 Interpol report. So the agency is appealing for public support to help bring fugitives to justice. "Even the smallest detail, which you might think is insignificant, has the potential to break a case wide open when combined with other evidence the police already have," said one official in a Nov. 17 press release.
Interpol's new focus, dubbed Operation Infra (International Fugitive Round Up & Arrest) Terra, was officially launched last month and has support from numerous global agencies, including the UN. It has put together a list of 139 fugitives wanted by 36 member countries but is focusing on nine for now.
The current list:
• Adriano Giacobone, 57, is wanted on charges that include illegal transport and discharge of toxic waste, poisoning water beds, counterfeiting accounting books, fraudulent invoicing, and kidnapping (pdf).
• Ahmed Kamran, 28, is charged with an attempt to smuggle more than 100 live animals, including giraffes and impalas, from Tanzania to Qatar on a military plane (pdf).
• Ariel Bustamante Sanchez, 53, is suspected of organizing illegal fishing operations in a Costa Rica national park (pdf).
• Ben Simasiku, 32, is charged with unlawful possession of illegal ivory (pdf). Between 20,000 and 25,000 elephants are killed every year in Africa out of a population of 420,000 to 650,000, according to Interpol.
• Bhekumusa Mawillis Shiba, 35, is wanted for killing rhinoceros in Swaziland and poaching its horns (pdf). Rhino horn poached last year was valued at up to $192 million. The animal has disappeared entirely from several Asian and African countries in recent years.
• Feisal Mohamed Ali, 46, the alleged leader of an ivory smuggling group, was found in possession of 314 pieces of ivory weighing more than two tons (pdf).
• Nicolaas Antonius Cornelis Maria Duindam, 55, is wanted for being a member of an criminal organization trafficking wildlife out of Brazil (pdf).
• Sergey Darminov, 50, is the suspected leader of a criminal group that organized illegal crab fishing, resulting in profits of more than $450 million (pdf).
• Sudiman Sunoto, 52, is wanted for illegal logging (pdf). An estimated 50 percent to 90 percent of the wood in some tropical countries is suspected to come from illegal sources or illegal logging, according to Interpol.
Before it's here, it's on the Bloomberg Terminal.
LEARN MORE