Honda Says Air-Bag Reports Failed to Meet U.S. Law
Ma Jie and Craig Trudell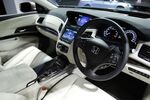 Honda Motor Co. said it failed to fully comply with a U.S. law to inform regulators about deaths and injuries relating to the Takata Corp. air bags at the center of a global vehicle-safety crisis.
"As I look back on our activity, I think we acted with urgency," Rick Schostek, Honda North America executive vice president, said yesterday at a U.S. Senate committee hearing to investigate the air-bag recalls. "Have we met our obligations to report Tread? We have not."
Honda could be fined as much as $35 million if found in violation of the Transportation Recall Enhancement, Accountability and Documentation Act, which was passed in 2000 to make it easier for the government to spot potential vehicle defects. Honda has said it didn't include verbal claims from vehicle owners in its early-warning reports to the National Highway Traffic Safety Administration until September.
The automaker will provide the results of an internal review of its reporting practices to NHTSA on Nov. 24, Schostek said. The Tokyo-based automaker has linked two U.S. deaths to the air bags, which deploy with too much force and shoot shrapnel at occupants, and is investigating two more.
"The information we asked for in our special order will be provided under oath and we will consider other material, including statements made at this hearing, as part of our investigation," Brian Farber, a U.S. Transportation Department spokesman, said in an e-mailed statement.
Ferrari Fine
Automakers that sell cars in the U.S. are required under the Tread Act to file quarterly reports to NHTSA about fatalities, injuries, lawsuits, warranty claims and customer complaints. The safety agency is supposed to analyze these Early Warning Reports to spot trends that may suggest safety defects.
The need to address lapses in reporting by some automakers has been raised by consumer-safety groups amid revelations that evidence of likely air-bag flaws existed long before the recalls began. Honda, Takata's biggest customer, is one of 10 automakers involved in air-bag recalls covering almost 8 million U.S. vehicles. Millions more have been recalled in other nations.
"For a sophisticated company like Honda, there is no excuse for violating the Tread Act," Clarence Ditlow, executive director of the Center for Auto Safety, a Washington-based research group, said in an e-mail. "NHTSA should fine Honda the maximum $35 million under the Safety Act and refer the case to the Justice Department to determine if there was an intentional criminal act."
Honda rose 0.37 percent to 3,690 yen in Tokyo trading. The shares have lost 15 percent this year, compared with a 7.5 percent gain in Japan's benchmark Topix index.
On Oct. 31, Ferrari SpA agreed to pay a $3.5 million fine for failing to report customer complaints, alleged defects and three deaths to U.S. regulators. That's the largest fine NHTSA has ever levied for early-warning reporting violations.
Before it's here, it's on the Bloomberg Terminal.
LEARN MORE