politics
Holder Urges Calm, Negotiations to Reduce Tensions at Protests
Del Quentin Wilber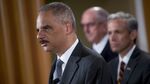 U.S. Attorney General Eric Holder urged peaceful protests and announced new guidance to law enforcement agencies on maintaining order as a grand jury nears a decision on whether to charge a police officer in an unarmed teenager's shooting death in Ferguson, Missouri.
"I ask all those who seek to lend their voice to important causes and discussions, and who seek to elevate these vital conversations, to do so in a way that respects the gravity of their subject matter," Holder said in a video message posted on his department's website today. "Peaceful protest has been a hallmark, and a legacy, of past movements for change."
In announcing new guidance from the Justice Department to law enforcement agencies on maintaining order during protests and demonstrations, Holder didn't directly mention the widespread and sometimes violent protests that occurred in the weeks after Michael Brown, 18, was shot to death on Aug. 20 by a police officer in the St. Louis suburb of Ferguson.
Local prosecutors are set to announce the results of a grand jury investigation as soon as this weekend into whether Ferguson police officer Darren Wilson violated any laws in taking Brown's life.
State and federal authorities are bracing for demonstrations if the grand jury clears Wilson. Missouri Governor Jay Nixon, a Democrat, has mobilized National Guard troops to assist in keeping order. Local authorities were criticized for their use of military-style vehicles and weapons during their initial response to protests after the shooting.
Reduce Tensions
Holder used the video to stress the importance of communication between authorities and communities to reduce tensions before they get out of hand. The attorney general said that allowing peaceful protesters to air their views was important.
"Over the past few months, we've seen demonstrations and protests that have sought to bring attention to real and significant underlying issues involving police practices, implicit bias, and pervasive community distrust," he said.
"And in most cases, these demonstrations have been both meaningful and responsible, and have brought vital issues to the attention of the public at large," Holder said.
Local authorities need to plan and prepare, including making sure training is conducted and evaluating the type of equipment and uniforms used by law enforcement officers in dealing with protesters, Holder said.
"This is the hard work that is necessary to preserve the peace and maintain the public trust at all times -- particularly in moments of heightened community tension," he said.
Before it's here, it's on the Bloomberg Terminal.
LEARN MORE