Google Targeted as EU Weighs Call to Split Search Providers
Aoife White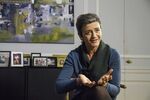 European Union lawmakers seeking to combat what they consider anti-competitive behavior by Google Inc. are weighing a call to split up companies that focus on Web search, according to a document prepared by members of the European Parliament.
One draft obtained by Bloomberg News asks regulators to tackle what it says are abusive practices by the Internet search provider. The European Commission should "consider proposals with the aim of unbundling search engines from other commercial services" to aid Europe's digital industry, according to another version of a draft resolution prepared by members of the European People's Party, which didn't specifically mention Google.
Google, which has more than 90 percent of the search market in many European countries, is facing threats to its business, including a possible Internet copyright levy, that add to a lengthy EU antitrust investigation into allegations that it discriminates against rivals. Lawmakers Andreas Schwab and Ramon Tremosa earlier this week called for legislation if the EU can't resolve its probe.
"This motion, especially if passed by Parliament, threatens to undermine the credibility of a long-running commission investigation by blatantly interjecting politics into a legal process," Ed Black, the head of the Washington DC-based Computer and Communications Industry Association, said in an e-mailed statement. Such a politicization is 'deeply troubling.''
Next Steps
Lawmakers from the EPP and liberal groups plan to ask the entire assembly to vote on Nov. 26 on the resolution. The final draft of their text must still be negotiated. While the version citing Google doesn't specifically ask for Google to be broken up, it does ask regulators to "act decisively on all concerns" given Google's high market share.
The draft urges EU antitrust regulators to agree only to concessions by the company that "immediately and unequivocally" prevent it from discriminating against rivals. It also asks for users to be shown search results that are "best for them, rather than best for Google."
The document says the EU should send antitrust objections to the company, a move that can lead to fines unless there's a settlement.
Margrethe Vestager, the EU's antitrust chief who took office on Nov. 1, will decide how to take the Google probe forward once she's heard from "those most directly affected," said her spokesman Ricardo Cardoso.
'Key Players'
"Search engines are key players in the development" of the European economy, Cardoso said in an e-mail. "We are committed to ensuring fair competition in the markets they are active in."
Niki Christoff, a spokeswoman for Mountain View, California-based Google, declined to comment.
Google has made several attempts to settle the EU case since the EU opened a formal investigation in 2010. So far the commission hasn't deemed any of its proposals acceptable after consulting with companies that complained about Google's behavior in the search market.
While the parliament doesn't have the power to compel regulators to propose legislation or alter their antitrust probe, it can amend laws it's examining. Lawmakers used this to curb banker bonuses and increase capital requirements for banks in 2010.
The draft text calling for splitting up search companies was reported yesterday by the Financial Times.
Before it's here, it's on the Bloomberg Terminal.
LEARN MORE