Ebola Docs Adopt New Tactics to Stop Epidemic
By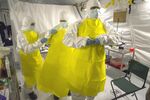 Given what he's witnessed this past month, you might expect Dr. Darin Portnoy to be counting down the days—or even hours—until he completes his service at a Liberian Ebola treatment center. Not so, says the 52-year-old Bronx physician, who's scheduled to depart next week. "If anything, I wish I had more time, so I could see how some of our adaptations do. And I'm just so impressed with my Liberian colleagues."
Those colleagues, he notes, don't get to leave. "And they're going to do all the work of getting a health system functioning again, of treating asthma, diabetes, hypertensions, all these things that are less sexy, maybe, and are getting neglected" in the Ebola fight.

During his fourth week at ELWA 3, a field hospital run by Médecins Sans Frontières/Doctors Without Borders (MSF), in Monrovia, Portnoy was encouraged by the continuing decline in Ebola cases—there are 20 patients now, down from more than 60 when he arrived, in a facility prepared to handle more than 200. The Centers for Disease Control & Prevention has confirmed this decline for Liberia and Guinea but not for Sierra Leone, where the outbreak remains out of control.
Portnoy says he's pleased that he and the others improved the survival rate, using IV hydration at critical stages of infection to give patients more of a fighting chance. And on Saturday morning, four expats and twice as many Liberians departed in Jeeps as part of MSF's first "rapid response team." The group has determined that if they're going to stop this epidemic, they can't wait for patients to show up at Ebola centers. By then they're likely to have exposed more people en route.
"MSF is really pushing this"—smaller units in more places—"with the other major aid groups," Portnoy says, noting that this call for fewer big facilities and more dispersed ones had caused friction. "You know, the U.S. and others, they're trying to meet their deadlines, get their facilities online, and we're glad to have them," Portnoy says. "But they'll be of limited use if they're not near patients." Greater mobility, he says, is important not only for containment, but also to give the sick better odds—many of the new cases coming into ELWA 3 had been delayed getting there, making it even harder to save them.
As we spoke, Portnoy said he expected one recent arrival, a three-year-old boy, to die overnight. A few days before, he'd treated a pregnant patient for the first time. "The literature all suggests that pregnant women do very, very poorly [with Ebola], and the babies don't survive. But we made a tremendous effort." He paused. "It was just a terrible, terrible outcome." The patient's premature baby was stillborn. He and the nurses took the steps any hospital would to stop the postpartum bleeding, "but remember, Ebola's a hemorrhagic fever. We just couldn't stop her bleeding."
If all goes as planned, Portnoy will fly to Brussels next week. He'll spend a few days there with the MSF team coordinating the Ebola response. They'll review what's working and what can be improved, and Portnoy will get some counseling. MSF sends teams of therapists and social workers into the field to assist survivors and the families of the dead. They also reserve a few "psych-social" staff for their own members to address such issues as post-traumatic stress and family conflicts that arise from absences.
Before he signed up for this Ebola mission, Portnoy, an avid trout fisherman, mulled spending his mandatory 21-day, self-monitored quarantine by unwinding with a fly rod. Then he thought better of it—if he were to show up with Ebola symptoms at a hospital in upstate New York or Bozeman, Mont., say, it'd be a bad show.
For personal reasons, he's opted instead to take a sublet in Geneva—that way there's no chance that an elevated temperature in his family will lead to a medical intervention, mandatory quarantine, or media swarm like the one MSF nurse Kaci Hickox endured. He'll miss Thanksgiving, though.
One thing he won't miss about ELWA 3 is being the elder statesman. He's at least a decade older than his fellow expats and the Liberians on staff. The other day he picked a gown from the bin and put it on. He had failed to notice it said "Papa" on it, until that became his nickname for a spell. "Being the old guy is kind of a drag," he laments. He also won't miss the traffic on the road between his living quarters and the clinic—"it's just two lanes, and it somehow manages to be worse than rush hour on the [Bronx-Queens Expressway]" in New York.
Aside from his co-workers, what he'll miss most about Liberia, he expects, are the thunderstorms. They roll in late in the afternoons or early evening. "And they are absolutely epic," he says. The thunder itself is so dramatic, it forces everyone to pause and listen. "It's so, so loud," he says. "And then, after, so, so quiet."
Before it's here, it's on the Bloomberg Terminal.
LEARN MORE