China Cuts Interest Rates to Boost Flagging Economy
By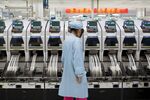 China's central bank has cut interest rates, for the first time in more than two years. The People's Bank of China announced on its website it will cut the one-year deposit rate by 0.25 percentage points to 2.75 percent and the one-year benchmark lending rate by 0.4 percentage points to 5.6 percent, starting tomorrow.
The surprise move is clearly aimed at boosting China's flagging economy, set to grow at its slowest annual pace since 1990. In recent days investment, industrial production, and retail sales have all disappointed. China's real estate market has continued to underperform, even as Beijing has loosened mortgage and down payment requirements.
"It's absolutely the right thing to do," Wang Tao, chief China economist at UBS in Hong Kong, told Bloomberg News. "Real interest rates have moved up significantly with slowing growth and inflation, which hurts corporate cash flow and balance sheet and threatens to increase nonperforming loans."
China announced on Nov. 15 that bad loans grew 72.5 billion yuan ($11.8 billion) to reach 766.9 billion yuan in the third quarter, the biggest jump in five years. That put them at 1.16 percent of total lending, up from 1.08 percent the previous quarter.
Before it's here, it's on the Bloomberg Terminal.
LEARN MORE