Who Is America's Top Protector of the Well?
And they said Republicans didn't care about the environment.
By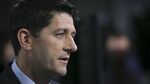 Somewhere in our nation's capital, there is a well. We're not sure if it has water, but it has something else in it. A lot of it. And someone in particular is responsible for putting it there, according to Republicans.