Port Work Slowdown May Mean Christmas Comes Late for Hawaii
A work slowdown has fir trees piling up on West Coast docks
By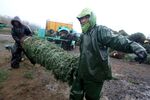 In July a six-year contract covering 20,000 dockworkers at 29 U.S. West Coast ports expired. Since then, shippers and the International Longshore and Warehouse Union have been locked in negotiations over how many jobs will be preserved as ports continue to automate loading and other issues. A fruitless round of meetings in early November has been followed by work slowdowns that have cut container traffic by as much as half at some ports.
Retailers anxious about imported toys and other gift items arriving in time for Christmas have repeatedly asked President Obama to appoint a mediator to sort out the dispute. Now exporters are chiming in, too. On Nov. 17 a coalition of 61 agricultural shippers sent the White House a letter asking Obama to invoke the Taft-Hartley Act to keep ports running in the event of a strike or an owner lockout. The last time that happened was in 2002, when another contract dispute between the West Coast ports and longshoremen triggered a lockout that went on for 11 days before President George W. Bush used the law to end it. "The current disruption at the ports has already caused millions of dollars in economic injury at precisely the busiest time for ports," the letter said.
The November slowdown is especially problematic for Christmas tree farmers. The Pacific Northwest is the nation's largest supplier of holiday evergreens. Oregon and Washington produce 8.7 million a year, many destined for buyers in Hawaii, who depend on mainland growers for 96 percent of their holiday tree purchases. "There's nothing like getting a fresh tree, just for the smell," says Elvis Kimura, a tree buyer for KTA Super Stores, a Hilo (Hawaii)-based chain. "That's Christmas. Just to get the atmosphere and that holiday spirit, the tree is a big deal for customers here."
Firs are piling up at dockside warehouses along with other perishables. "We're seeing delays of up to three weeks, and when you're talking about Christmas, that's big," says Brenda Barnes, an export account manager for Portland (Ore.) freight forwarder Geo. S. Bush. She handles orders for 300,000 to 500,000 fir trees a year from buyers in Hong Kong, Singapore, and Malaysia. About 30 percent of her orders have been canceled because she can't guarantee delivery before Dec. 25, she says. "We deal with French fries, potatoes, onions," she says. "Christmas trees are different."
Bob Schaefer, the general manager of Noble Mountain Tree Farm in Salem, Ore., says he's packed two shipments for the islands but doesn't know when they'll arrive. "There are going to be some Hawaiians coming here and beating some longshoremen on the head if they don't get their Christmas trees on time," he says.
The White House says it's monitoring the negotiations but has no plans to force a resolution. "Just last year, there was a long negotiation at the East and Gulf Coast ports," White House spokesman Frank Benenati said in an e-mail. "Just as the two sides in that case were able to resolve their differences through the time-tested process of collective bargaining, we're confident that management and labor at the West Coast ports can do the same."
Union spokesman Craig Merrilees dismissed industry appeals to the president as scaremongering: "The remaining issues include none that are insurmountable and can't be resolved through continued negotiation to reach a fair settlement."
Growers aren't betting on it. But there's a potential bright side for stateside buyers: discounts as trees grown for export wind up being sold at home. "We're all competing in the same market here," says Casey Grogan, who manages Silver Bells Tree Farm in Silverton, Ore.
BOTTOM LINE -
The bottom line: Christmas tree exporters are among those hit by work slowdowns at major West Coast ports amid contract negotiations.
Before it's here, it's on the Bloomberg Terminal.
LEARN MORE