ThyssenKrupp Resumes Dividend on First Profit in 4 Years
Tino Andresen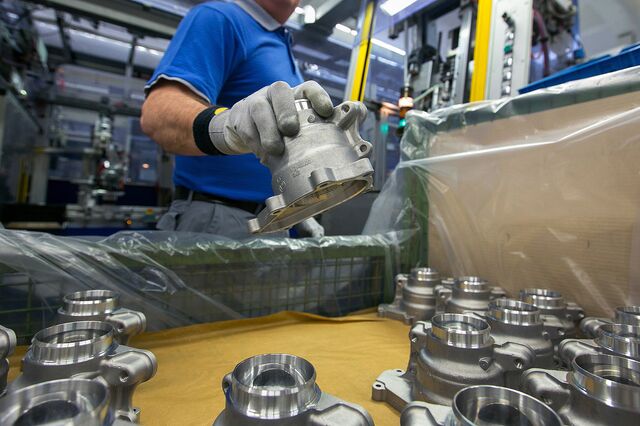 ThyssenKrupp AG, Germany's largest steelmaker, reported the first annual profit in four years after selling a U.S. plant that was part of the 203-year-old company's worst investment.
The management and supervisory boards proposed a dividend payment of 11 euro cents a share after no payment in the previous two fiscal years. Resuming the dividend is a "strong signal," to shareholders, Chief Executive Officer Heinrich Hiesinger, said today in an interview with Bloomberg TV. "It shows our confidence that future earnings will come."
ThyssenKrupp is expanding its elevator, industrial and components units amid weak steel prices. It announced plans last year to sell shares and a U.S. plant in its Steel Americas unit after having lost almost 14 billion euros in market value since 2008. It failed to find a buyer for its 73 percent stake in a Brazilian plant.
"We are making progress with our transformation into an efficient and profitable diversified industrial group," Hiesinger, whose contract was extended until 2020 yesterday, said today in a statement. "The sum of the group's parts generates more value than the individual businesses could ever do alone."
Net income was 210 million euros ($263 million) in the fiscal year ended Sept. 30, compared with a loss of 1.44 billion euros a year earlier, the Essen, Germany-based company said in the statement.
'Conservative' Forecast
ThyssenKrupp rose 2.8 percent to 20.275 euros in Frankfurt, its highest closing price since Sept. 30. It was the second-biggest gainer in the German benchmark DAX Index.
ThyssenKrupp forecast earnings before interest and taxes, excluding one-time items, will increase to at least 1.5 billion euros in the current fiscal year, and the company is seeking to reach at least 2 billion euros in the longer term.
"The outlook is conservative," Christian Obst, an analyst at Baader Bank AG, said by phone. "I don't like it to pay a dividend" as long as the free cash flow before divestments is negative, at 254 million euros.
Adjusted Ebit for continuing operations more than doubled to 1.33 billion euros from a year earlier. That beat the 1.24 billion-euro average of 20 estimates compiled by Bloomberg. Sales increased 3.8 percent to 41.3 billion euros.
Steel Americas was the only division to report an adjusted loss before interest and taxes, of 60 million euros, narrowing from a 495 million-euro loss a year earlier. It will "at least make a clear improvement towards break-even Ebit" this year, the company said.
While ThyssenKrupp does "not intend to give away our Steel Europe business," the company is "not limited by our heritage," Hiesinger told Bloomberg TV.
Before it's here, it's on the Bloomberg Terminal.
LEARN MORE