Taxpayers From U.K. to Korea Take On Risk to Build Up Dubai
Zainab Fattah and Matthew Martin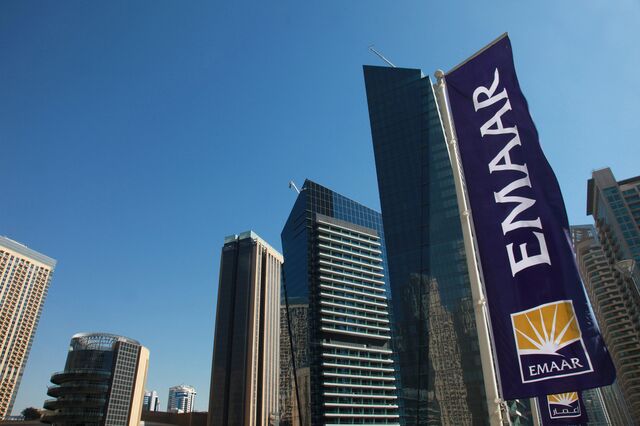 When travelers breeze though Dubai's expanded Al Maktoum International Airport in a few years, they'll probably have the British taxpayer to thank.
The state-funded U.K. Export Finance agency is offering as much as $2 billion in loans and guarantees to British companies bidding for contracts on the airport, the agency said in an e-mailed statement. It's one of many low-profile national export credit agencies that are playing a growing role in financing the emirate's public and private developments.
Export credit agencies from Korea to France and Belgium increased their backing of Dubai building projects after the unrated emirate's brush with insolvency in 2009 caused banks to curtail lending. While the loans and guarantees help exports and job creation for the lending country, they also expose taxpayers to financing in a place that doesn't have a credit rating.
"It's relatively easy for an ECA to take the risk of longer-term lending to well-structured energy and utilities' infrastructure projects in well-rated economies such as Qatar," said Maarten Wolfs, team leader for Middle East projects and infrastructure finance at Pricewaterhousecoopers LLP. "It's more of a challenge for Dubai given the payment history and difficulties in understanding its finances, along with the sheer magnitude of the declared infrastructure spend."
Theme Parks
The agencies are funding some of the largest projects in Dubai, including offices and residential towers for Emaar Properties PJSC and theme parks for Meraas Holding LLC. The money pledged by U.K. Export Finance to help expand the Al Maktoum airport, set to be the world's largest, gives preference to contractors from Britain.
"The government used to raise the money at the sovereign level and ask contractors to bid for the construction contract," David Charlier, a partner at Ashurst LLP and head of the corporate adviser's Middle East finance practice, said by phone. "Now it's asking contractors to arrange the funding."
French and Belgian taxpayers can take credit for Dubai's Al Sufouh tram, which opened Nov. 11. Work on the 11-station project stalled for more than two years after the financial crisis. France's COFACE and Belgium's Office National du Ducroire stepped up with $675 million in loan guarantees to Dubai's government in 2012. France's Alstom SA and Belgium's Cofely Besix were awarded contracts to build the tram and maintain it for 13 years.
Sway Decisions
"The Dubai tram was the starting point," said Charlier. "It started as a very traditional Dubai project funded directly by the government. Work stopped for a few years until the contractors came back with their own funding guaranteed by export credit agencies. Now we are seeing this model being used more often on new projects throughout the emirate."
Amid fierce competition between construction firms and suppliers, the ability to bring all or part of a project's funding can sway the decision to award the contract. Those with the backing of export credit agencies are more likely to win work, said Olivier Crasson, executive vice president of business development at Besix.
"The clients are asking the contractors to share a bit more in the risk," he said. "Contractors are no longer entities that execute the work that is given to them. They are also involved in designing the best financial scheme that will suit the client."
Construction's Importance
Dubai's construction industry accounted for 8.4 percent of the emirate's real gross domestic product in the first quarter, said Monica Malik, chief economist at Abu Dhabi Commercial Bank PJSC. The share will only grow as development projects which are central to Dubai's economic development, gain traction.
UK Export Finance has been increasing its direct lending and loan guarantees to British exporters in Dubai as part of the government's strategy to boost economic growth. Chancellor of the Exchequer George Osborne announced a 3 billion-pound ($4.8-billion) new direct lending facility in March. The first deal approved under that program was a $110-million loan for British construction firm Carillion Plc, helping it secure a contract for the expansion of the Dubai World Trade Center.
"In the 1970s, Dubai was our biggest market in terms of exposure through loan financing," said Steve Dodgson, Business Group director at UKEF. During the early 2000s lending by UKEF to Dubai was in "sharp" decline as the availability of bank loans meant most exporters could raise funds from elsewhere.
Lending Turnaround
The financial crisis prompted a turnaround. UKEF provided 308 million pounds through a mixture of direct loans and guarantees to help fund British exports to Dubai in the 12 months ending March 31, up from 22.6 million pounds in the same period through March 2010. Most of the 2013 investment was used to help Emirates Airline buy planes from Airbus Group NV. The main focus for UKEF is in construction and aerospace, Dodgson said. The typical repayment period is five to 10 years.
Dubai rattled global markets when it sought a standstill on about $26 billion of debt in 2009. The emirate, which racked up $129 billion of borrowing to transform itself into a tourism and financial hub, saw one of the world's worst property crashes in the aftermath of the global credit crisis. It later reached a restructuring deal with more than 80 local and international banks.
Some of Dubai's biggest foreign creditors included HSBC Holdings Plc, Standard Chartered Plc and Bank of Tokyo Mitsubishi UFJ Ltd., Royal Bank of Scotland Group Plc and Lloyds Banking Group Plc.
Reluctant Banks
"During the financial crisis, when most international and local banks were very reluctant to lend, the export credit agencies stepped up their activities," said Mario Salameh, head of project finance at HSBC Middle East. Now, they are "playing a very important role," he said.
The most active agencies in the region have been the Korean and Japanese ones, Salameh said. Korea's Samsung C&T Corp. was the main contractor building Burj Khalifa, the world's tallest tower, while Japan's Obayashi Corp. and Mitsubishi Corp. helped build Dubai's metro.
Whether they're lending or providing guarantees, the agencies funding Dubai projects are using the same metrics as banks to assess the creditworthiness of companies, Salameh said. That includes checking balance sheets and cash flow as well as scrutinizing the viability of the project being financed.
Those criteria weren't enough to protect dozens of international and local banks that provided loans to Dubai companies before the emirate's property crash and were later forced to take losses and extend repayment periods.
Taxpayer Risk
"Most ECAs are ultimately underwritten by home governments and by extension answer to the taxpayer," said Wolfs of Pricewaterhousecoopers. The agencies will weigh the risk of long-term lending to Dubai over short-term benefits for contractors and exporters, he said.
For developers and borrowers, choosing between bank loans or export credit finance involves balancing repayment times with interest rates and considering the cost of materials they would have to buy from the country providing the credit, Crasson said.
"An item could be more expensive in Europe than in China, for example, but the client would have to buy it from Europe to get lower interest rates or a longer repayment period thanks to the European funding. It's a trade-off.", Crasson said. "They can't have it all. It's really a balancing act."
Before it's here, it's on the Bloomberg Terminal.
LEARN MORE