STMicro Profit Target May Take Longer to Reach, CEO Says
Marie Mawad and Daniele Lepido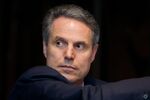 STMicroelectronics NV may take longer to reach a key profit target should last quarter's dip in demand persist, Chief Executive Officer Carlo Bozotti said.
The company has a goal of reaching a 10 percent operating margin in the mid-term, a target which was previously set to the middle of 2015. While cost cuts will improve profit in coming months, fourth-quarter market trends and the strength of demand will determine when the chipmaker reaches that target, he said.
"There's no question whether we will reach 10 percent, the question is the time frame," Bozotti said in an interview in Barcelona at a conference organized by Morgan Stanley. "The time frame may change. Of course, the softening of demand will not help, but we're very committed to improving what we can control."
"Point-of-sale" data through the end of October shows that stunted growth may be caused by customers correcting inventory levels rather than a more permanent slowdown, Bozotti said. Still, the company won't know for sure how much demand has fallen until the end of the current quarter, he said.
Shares of STMicro declined 2.8 percent to 5.73 euros at 9:12 a.m. in Paris, after losing as much as 4.2 percent in U.S. trading yesterday. The stock has fallen 1.7 percent this year, giving the company a market value of about 5.2 billion euros ($6.5 billion).
STMicro said last month that weaker chip demand will cut sales this quarter. The Geneva-based company is working to improve profitability by focusing on chips used in more lucrative power-management products, video-game consoles and sensors for the automotive industry. The operating margin in the third quarter, excluding costs to restructure the business, rose to 4 percent from 2.7 percent a year earlier. Third-quarter net revenue fell 6.3 percent.
"I see another significant step forward in the coming year on margins," Bozotti said. "Whether we reach 10 percent will depend on how heavy the demand softening is."
Before it's here, it's on the Bloomberg Terminal.
LEARN MORE