Stanton Losing About $141 Million of Record Deal to Taxes
Eben Novy-Williams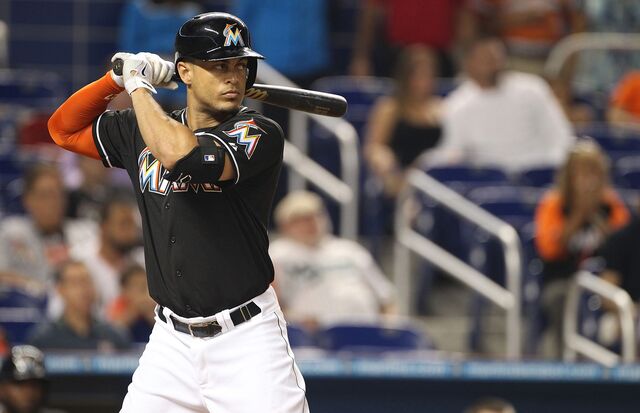 Giancarlo Stanton will give up more in taxes over his record contract than 24 Major League Baseball teams paid their players last season.
The Miami Marlins outfielder two days ago signed a 13-year, $325 million deal, the richest in North American sports history. Federal, state, city and payroll taxes will eat about $141 million, or 43.3 percent of the total, according to Robert Raiola, a certified public accountant who specializes in sports and entertainment. That brings Stanton's haul to about $184.1 million. Florida has no state income tax.
The calculation, Raiola said in a telephone interview, is based on current rates and the assumption that the 25-year-old Stanton lives in Florida. It also uses the Marlins' 2015 road schedule, which will vary year to year, as a baseline for future travel.
"This isn't like a lottery ticket," Stanton said during a press conference announcing the contract. "You win the lottery and you quit your job, you go live wherever you want and call it a day. No, this is a start of new work and a new job. It's a huge responsibility and one I'm willing to take.'
Over the course of the contract -- a span Stanton joked was longer than he attended school -- he will pay $132.5 million in federal and payroll taxes, according to Raiola, the sports and entertainment senior group manager in the Cranford, New Jersey, office of O'Connor Davies, LLP. He'll pay about $8.5 million in what's known as a ''jock tax," which states charge to visiting professionals earning money within their borders.
MVP Runner-Up
Stanton will benefit from playing more than 60 percent of his games in jurisdictions that don't have state taxes, including home games and any trip to play the division-rival Washington Nationals. While tax rates vary by state, Raiola said he assumed a flat rate of 7 percent in the locales where athletes are subject to tax.
Stanton hit a National League-high 37 home runs this year with a .288 average and 105 runs batted in. He finished runner-up in NL Most Valuable Player voting to Los Angeles Dodgers pitcher Clayton Kershaw.
The two-time All-Star's contract eclipsed the $292 million, 10-year agreement Miguel Cabrera reached with the Detroit Tigers in March, the previous high for a U.S. sports league. Stanton was not a free agent, meaning he did not consider offers from other teams before signing the record contract.
Among baseball's 30 teams the Dodgers had the highest payroll last year at about $241 million, according to USA Today. The New York Yankees, Philadelphia Phillies, Tigers, Boston Red Sox and World Series-champion San Francisco Giants were the only other teams above Stanton's $141 million tax threshold.
Before it's here, it's on the Bloomberg Terminal.
LEARN MORE