Rochester Set to Hand Rebuke to Cameron After 54-Day Siege
Robert Hutton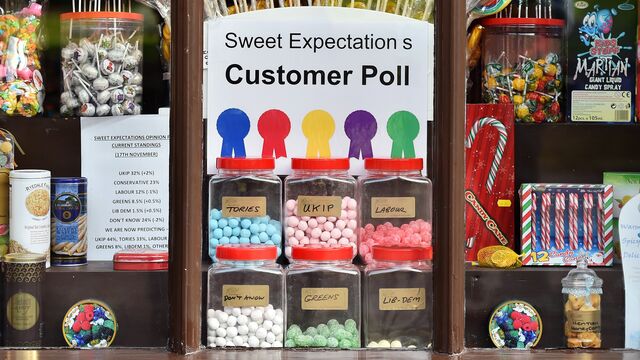 The siege of Rochester in 1215 lasted 50 days. Present-day residents have had to last out four days more than that during a campaign for a by-election that threatens both Britain's main political parties.
The battle 799 years ago ended with victory for King John, as the rebels were starved out and the castle keep destroyed when the monarch set a fire that consumed the fat of 40 pigs. In modern Rochester, 30 miles (50 kilometers) southeast of London, the onslaught has featured mountains of political leaflets and endless door-knocking, and it looks like the rebels will win the day.
If, as opinion polls suggest, the U.K. Independence Party wins its second elected seat in Parliament today, it will be a rebuke to both Prime Minister David Cameron's Conservatives and Ed Miliband's opposition Labour Party. It will suggest both that Cameron's promises of a referendum on European Union membership and tighter rules on immigration have done nothing to win voters back from UKIP, and that Miliband isn't the beneficiary. And it will underline how close the May 2015 election is going to be.
"The Tories thought they would be able to win this, but they didn't appreciate the way in which UKIP's campaign operation has changed," Matthew Goodwin, co-author of "Revolt on the Right," a study of UKIP, said in an interview. "They used to be terrible campaigners -- really, really shambolic. Now the party's got a voter identification system, it's got more targeted, it's much more subtle."
This by-election, like the one last month that gave UKIP its first elected member of Parliament, Douglas Carswell, was forced by the decision of the Tory who represented the seat, Mark Reckless, to defect to UKIP. If Reckless wins, the question is how many more Tory lawmakers will follow their lead.
Election Calculations
With the general election now less than six months away, any further defectors could probably avoid forcing another by-election. The tighter UKIP's margin of victory, though, the easier it will be for Tories to persuade wavering MPs that they risk losing their seat in the general election if they switch parties.
While four polls have put Reckless at least nine percentage points ahead of the Conservative candidate, Kelly Tolhurst, in a 13-strong field, Goodwin said he thought the result could be tighter.
"UKIP are reliant on a lot of voters who haven't voted UKIP before," he said. "It would be remarkable, but not impossible, if the Tories pulled this one out of the bag."
Even so, bookmaker William Hill Plc makes Reckless 1-100 favorite to win, meaning a successful 100-pound bet would only produce a profit of 1 pound.
Cameron Visits
The Conservatives have thrown everything at the seat, which also takes in the neighboring town of Strood. Cameron has visited five times, and every Tory lawmaker has been required to make at least three trips, however brief. The Times newspaper reported yesterday that some members of the cabinet spent barely an hour in the district before getting the train back to London.
"People are seeing a lot of us, but that's elections for you," said Tracey Crouch, the Tory who represents the neighboring seat of Chatham. "On the positive side, there's a lot of businesses and people in Rochester who've met the prime minister and other members of the cabinet who wouldn't have otherwise."
It's not just bodies that Cameron has deployed. Having previously refused to say what he would demand in a renegotiation of Britain's EU membership, he began the campaign by saying it would involve demanding an end to the free movement of people into the U.K. According to Goodwin, UKIP supporters in the seat list immigration as their top concern.
Labour Decline
While bad news for Cameron might offer temporary relief for Labour, it won't represent good news for Miliband. His party is on course to come third in a seat that it held until 2010, a fresh sign that government unpopularity isn't translating into support for Labour. Miliband's party has fallen behind the Tories in some recent nationwide polls of voting intention.
Rochester isn't a seat Labour would need to win to get a majority in Parliament next year. Still, Rob Hayward, a former Tory lawmaker and elections analyst, said it's surprising Miliband's party isn't making a greater effort in today's by-election.
"All the attention will be on the Tory defeat, but Labour's absence from the battle is significant, and not just because they used to hold the seat," he said. "It means they haven't used the chance to test-market messages. I'm surprised by that. There's no doubt the Conservatives have been doing it."
General Election
Peter Kellner, the president of polling company YouGov Plc, said there's a chance for the mainstream parties to win back those supporting UKIP today in the May general election.
"A lot of today's protest voters are queasy about the level of immigration, but they are less obsessed with it" than core UKIP voters, Kellner said in an e-mailed commentary. "In a general election they will care who governs Britain. A party can woo these voters by showing that it knows how to sort out the NHS, improve schools, help youngsters get jobs and homes and generally raise living standards."
Voting in Rochester & Strood continues until 10 p.m. local time, with the result scheduled to be declared about 3 a.m. tomorrow.
Before it's here, it's on the Bloomberg Terminal.
LEARN MORE