RBS Fine Seen Underscoring Tech Challenge Facing U.K. Banks
Richard Partington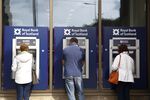 Royal Bank of Scotland Group Plc, fined 56 million pounds ($88 million) today for a 2012 computer collapse, is hardly alone among U.K. lenders in facing mounting costs to upgrade their aging systems.
Built on decades of consolidation, the banks are trying to simplify years of incremental technology upgrades, while reducing expenses and meeting growing customer demand for expanded online banking. Regulators are forcing up technology spending with new reporting requirements.
"Are we the standout poster child for underinvestment in resilience? I don't believe that to be the case," Simon McNamara, RBS chief administrative officer, said on a call with reporters today. "I know for a fact the other banks aren't out there sitting on something that's pure and complete and done."
RBS, the U.K.'s largest state-owned lender, agreed to pay the Financial Conduct Authority 42 million pounds and the Bank of England's Prudential Regulation Authority 14 million pounds to settle probes into the failure that left millions of customers without access to their accounts in June 2012.
Retired Staff
To help fix its computer system, RBS signed up the aid of already retired employees, said two people with knowledge of the matter who asked not to be identified because the matter isn't public. The Edinburgh-based bank took more than a week to clear a backlog of transactions.
McNamara, who joined RBS from Standard Chartered Plc last year, said on the call that about 85 of 90 issues found in an FCA review have been fixed since the system collapse hurt customers. RBS is now able to upgrade its systems about twice as fast as before the failure, he added.
"Significant progress has been made since the IT incident," an RBS spokesman said in a statement. "We are currently investing 750 million pounds over three years to improve the security and resilience of our systems."
Lloyds Banking Group Plc, the nation's largest mortgage lender, has committed 1 billion pounds over the next three years to digitize its business, closing branches and eliminating about 9,000 jobs as customers move to Internet banking. U.K. consumers make as much as 1 billion pounds of personal banking transfers online a day as they move away from branches, according to the British Bankers' Association.
'Creaking Platforms'
"The fact they're spending suggests to me there is a significant upgrade required," said Gary Greenwood, an analyst at Shore Capital Group Ltd., who has a hold rating on the stock. "RBS isn't alone in having technology problems -- it's just the highest profile because they're government owned."
Security concerns are also driving up technology costs. HSBC Holdings Plc's Turkish unit said this month it lost 2.7 million customers' bank data in a cyber-attack after a similar breach at JPMorgan Chase & Co. this year. The BOE faces scrutiny of its payment network after its settlement system had to be shut, delaying bank transfers and house purchases.
"A lot of the platforms are really creaking -- they're old," said Ewen Fleming, a partner at Grant Thornton LLP in Edinburgh who advises banks on IT infrastructure. "The scale of change, particularly for regulatory requirements and the adoption of digital, and the need to integrate use of these with traditional distribution channels, means that banks need to invest heavily."
'Adverse Effects'
RBS's penalty comes as regulators step up their scrutiny of banking technology, with the FCA writing to the chairmen of Britain's largest banks, seeking to assess how well they are managing their IT risks. The PRA said RBS's technology failure could have had "adverse effects" on the U.K. banking system because it interfered with the lender's core operations while impacting others.
The U.K.'s largest banks are also faced with the technology overhaul of their systems required to erect internal firewalls to meet BOE rules forcing them to separate consumer operations from riskier investment-banking units. Barclays Plc is considering shifting its businesses into eight entities in response to the rules, according to a draft document obtained by Bloomberg News.
As the U.K. big banks, which control 80 percent of the market for checking accounts, overhaul their older technology systems, they are seeing new competition from smaller lenders and technology startups such as as Metro Bank Plc and Funding Circle Ltd. that don't have such legacy issues.
"We have the advantage of starting with a clean sheet of paper," said Edmund Truell, who runs Tungsten Corporation Plc, a London-based invoice discounter that competes with retail banks. It added Siemens AG as a client in September.
"The heritage of the banks tends to be rather toxic," said Truell, 52, former chief executive officer of private-equity firm Duke Street Capital. "You can imagine some bank brands that don't inspire confidence."
Before it's here, it's on the Bloomberg Terminal.
LEARN MORE