Hanging Around: Why Abe's Holding an Election in a Recession
Isabel Reynolds and Maiko Takahashi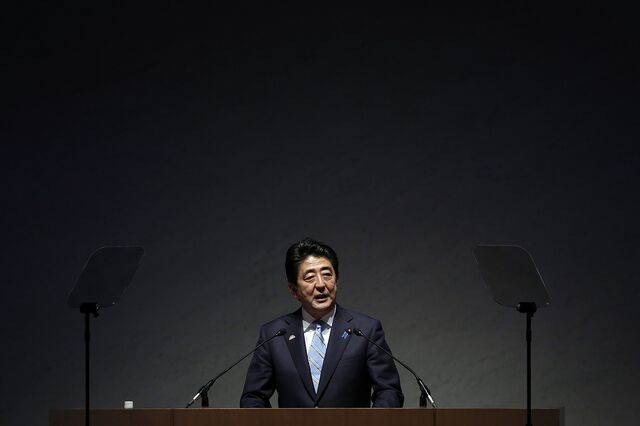 The economy's in recession, his support is sliding, and he has two years left in office with a big majority. Hardly surprising Japanese voters say they don't understand why Prime Minister Shinzo Abe has called an election.
Abe dissolved the lower house of parliament today for the vote to be held in mid-December. His coalition isn't likely to lose its majority as the opposition is in disarray. A solid win now would snuff out potential threats from within his own party in a leadership election set for next year.
Abe is taking a page out of his family's history. His great-uncle Eisaku Sato, the longest-serving prime minister since the war, twice called early elections during his eight years in office from 1964-1972 to consolidate his grip on power. While Abe has already closed the revolving door of one-year prime ministers that began with his own resignation in 2007, he needs to be seen as keeping his pledges to revive the economy to be able to challenge Sato's record.
"Tradition is that as soon as a prime minister's popularity goes down, you put in another guy," said Steven Reed, professor of political science at Chuo University in Tokyo. Each of the last six prime ministers "lost popularity rapidly because they didn't keep any promises," he said.
The risk is that Abe's plan backfires and he loses enough seats to fuel a challenge from his own allies, who in Japanese politics are often a more formidable threat to a sitting prime minister than the opposition. Sixty-three percent of respondents in a Kyodo News poll yesterday said they didn't understand his reasons for calling an election.
Maintaining Support
Abe, 60, has held his job so far partly because his support has fallen slowly in comparison with recent prime ministers. His Cabinet's approval rating of 47 percent in a poll conducted by Kyodo News compares with a peak of 72 percent in April 2013.
By contrast, his predecessor Yoshihiko Noda's rating was just 18 percent in November 2012, the month before the last lower house election, after he decided to raise the nation's sales tax. That was down from more than 60 percent when he took office a year earlier.
Abe's economic policies "have achieved a cheaper yen and much higher stock prices," said Kazuhisa Kawakami, a professor at Meiji Gakuin University in Tokyo. "Voters are rating him reasonably highly for these results" despite the recession and the fact they say they are not feeling the benefits, he said.
The yen fell to a seven-year low yesterday of close to 119 against the dollar, 27 percent weaker than when Abe took office in December 2012. The weaker yen has led to a surge in exports and corporate profits that led to gains of 68 percent in the benchmark Topix stock index over the same period.
Weak Opposition
The opposition has so far failed to make headway with voters. Indeed, only 9 percent of respondents to yesterday's Kyodo poll said they would vote for the Democratic Party of Japan, the closest rival to Abe's Liberal Democratic Party, in the proportional representation bloc of next month's election.
The DPJ is struggling to field enough candidates to compete in all constituencies, while the smaller Your Party said this week it would disband.
"Unfortunately I don't think the Democratic Party has recovered to the extent that we can ask the voters to hand us the reins of government," the DPJ's secretary-general Yukio Edano told reporters in Tokyo today. "But we must do our best, because alternatives are needed."
Another reason for Abe's relative longevity is the lack of a clear successor as party leader, according to Reed. Unnerved by memories of a 2009 election defeat, factions within his ruling Liberal Democratic Party have halted a tradition of jostling to nominate rival candidates, the analyst said.
"Under traditional LDP rule, there was always a guy in waiting, or actually two or three under the faction system," Reed said. "Now there's not. Showing disunity is one thing a governing party doesn't want to do any more."
Retain Majority
Both professors expect Abe's coalition to retain its majority.
"I know some people are saying, 'Why are you holding an election when you're only going to lose seats?'" Abe said in a news conference on Nov. 18 to announce the dissolution of parliament. "I am prepared for a tough fight in this election."
Abe's party holds 294 of 480 seats in the lower chamber, while Komeito, the junior coalition party, has 31, giving the coalition a majority of just over two-thirds.
The total number of seats will fall to 475 for the December election, in a reform aimed at reducing the excessive political weight given to depopulated rural districts.
Each voter receives two ballots, one with which they can choose an individual candidate in 295 local constituencies and another giving them a choice between political parties in 11 larger proportional representation districts.
Before it's here, it's on the Bloomberg Terminal.
LEARN MORE