PHOTO: Obama Works on Immigration Speech
The White House issued a photo on Wednesday of the President working on his highly anticipated speech.
By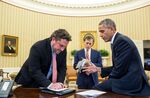 As President Obama prepares to address the nation on his decision to issue executive orders on immigration, the political drama has consumed Washington. Democrats are cheering the president on, while Republicans are vowing to try and make him pay. Fully aware that the speech will go a long way toward defining the course that the final two years of his tenure will take, the White House saw to it to release the following photograph Wednesday night of the president and his aides in the Oval Office crafting his remarks. 

Featured alongside Obama are Director of Speechwriting Cody Keenan and Senior Presidential Speechwriter David Litt. Obama will deliver the speech at 8 p.m. Eastern on Thursday from the Oval Office, and it can be viewed live at Bloomberg Politics.