Oil Output Cuts Unthinkable for OPEC Have Nots: Chart of the Day
Grant Smith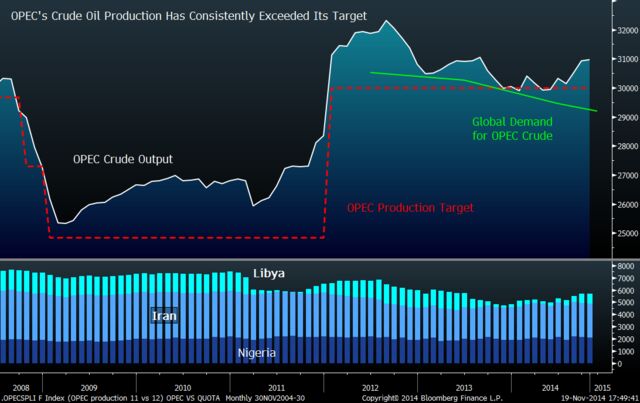 The prospect of contributing to oil-production cuts is so unthinkable for some OPEC states that any accord at next week's meeting is unlikely to stick, according to DNB ASA.
The CHART OF THE DAY shows that the Organization of Petroleum Exporting Countries has supplied more oil to world markets than it agreed at prior gatherings. The bottom panel shows how output from Libya, Iran and Nigeria has suffered amid conflict and sanctions since the group's last cut in 2008. Such nations would struggle to adhere to a collective decision on Nov. 27 to curb output, according to Torbjoern Kjus, an Oslo-based analyst at DNB, Norway's biggest bank.
"There's a good chance a minor cut will be communicated, but deliverance of the cuts won't be nearly enough," Kjus said by phone from Oslo. "They won't be able to distribute quotas at this meeting. There's a snowball's chance in hell that Nigeria, Iran or Libya are going to contribute anything in the potential cut now."
Those three nations have "cut involuntarily" since OPEC's last coordinated reduction, Kjus estimates. Libyan output is 49 percent lower since the 2008 action as militias battle for control of the country, while Iran's is down 28 percent amid sanctions targeting its nuclear program. Nigeria lost 300,000 barrels a day of oil to theft and sabotage last year, according to Nigerian National Petroleum Corp.
OPEC, responsible for 40 percent of global oil supplies, pumped an average of 1.7 million barrels a day more than its 24.845 million daily quota from 2008 to 2011, according to data compiled by Bloomberg. It has exceeded the current daily production ceiling of 30 million barrels, introduced in January 2012, by an average of 886,000 barrels.
When the 12-member group agreed to reduce its target by 4.2 million barrels a day in 2008 as the world slid into recession, members initially complied with 90 percent of the cuts, the data show. Within a year, they had strayed above the limit as oil prices and demand rebounded as the global economy recovered. Demand for its crude will fall every year through 2017, slipping as low as 28.2 million barrels a day by then, according to OPEC's own estimates.
Before it's here, it's on the Bloomberg Terminal.
LEARN MORE