Jim Webb Launches 2016 Presidential Exploratory Committee
The presidential race gets its first contender.
By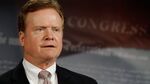 Jim Webb, a veteran of Ronald Reagan's administration who served one term as a Democratic U.S. senator from Virginia, has launched a presidential exploratory committee. Late Wednesday night, Webb uploaded a 14-minute statement to YouTube, and a campaign site—Webb2016.com—went live.
"I have decided to launch an exploratory committee to examine whether I should run for president in 2016," says Webb in the video. (A transcript is paginated on the new site.) "I made this decision after reflecting on numerous political commentaries and listening to many knowledgeable people. I look forward to listening and talking with more people in the coming months as I decide whether or not to run."
It probably says something about Webb's dark horse status—or about the priorities of the media—that Webb2016.com was registered on Oct. 20 and nobody really noticed. Webb, who was a star candidate as soon as he was drafted to run for Senate, became known as a thoughtful politician who did not care for the grip-and-grab of campaigns. He won his sole bid for office, in 2006, in a hard-fought campaign after incumbent Republican Senator George Allen badly wounded himself with racial gaffes. Just weeks into his first term, Webb gave his new party's response to President George W. Bush's State of the Union. In office, he generally voted with the Democrats, and shepherded the post-9/11 G.I. Bill through Congress.
After the Democrats' 2010 election rout, Webb spoke out with unusual candor about the ways the party had lost working class white voters. He announced just three months later that he would retire from the Senate, clearing a path for the much more electorally inclined Tim Kaine to run for his seat. In 2012, a liberated Webb kept on criticizing the way Democrats had governed under President Barack Obama. He returned to the campaign trail to stump for the president anyway.
Still, until this summer, Webb gave every indication that he was finished with politics. His memoir, "I Heard My Country Calling," began with a vignette from the day Webb cleaned out his Senate office.
"I heard my father's voice: If you're going to miss it, then maybe you should have stayed, Sonny Boy," wrote Webb. "No. It was definitely time to go."
Yet while promoting that book, Webb gave an interview to USA Today's Susan Page in which he refused to rule out a presidential run. Six months later, he is the first kind-of candidate for president of either party. In his statement, he calls himself "one who spent four years in the Reagan Administration but who served in the Senate as a Democrat." He doesn't say which nomination he's going for, but Webb has had precious few kind things to say about the party he campaigned against in 2006, 2008, and 2012.